Ebesu (Asagaya: Kushiage)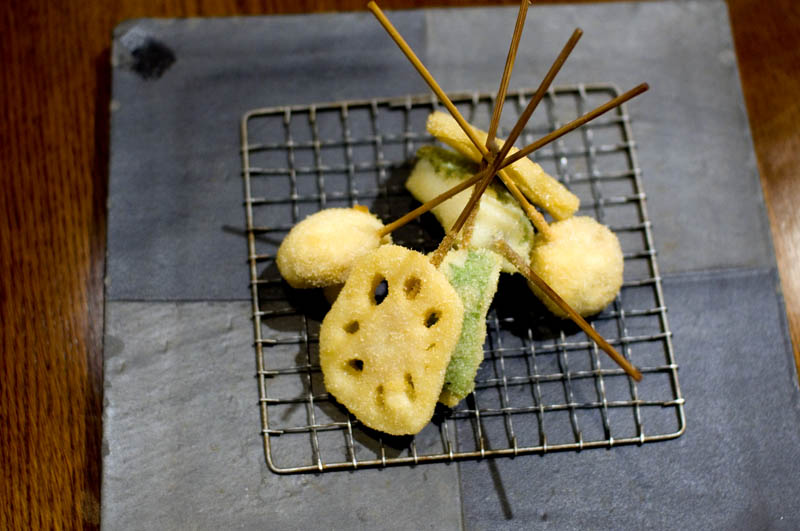 Ebesu
Open 4-11:30pm (LO) daily.

: Open Sundays
---
Located along a bustling shopping arcade near Minami-Asagaya station, this charming local izakaya has a real neighborhood feel to it, with patrons of all ages. The specialty of the house is kushiage - deep-fried skewers of meats, seafood and fresh vegetables - along with well-prepared izakaya standards like motsu nikomi (organ-meat stew) and teppan-grilled pork.

If you enjoy good sake be sure to look for the separate sake menu - they offer a handful of serviceable craft sakes from a rotating list. They also make a couple of original drinks concoctions - a homemade ginger beer and a rum-based umeshu.

The food menu also features daily and seasonal specials, which can be found on the hand-written strips hanging from the walls. The interior is quite utilitarian, although there's some pleasant outdoor seating facing the shopping street for when the weather permits. Budget around Y2000-3000 for food and drink at dinnertime.
Asagaya
Suginami-ku, Asagaya-Minami 1-12-5.
Location on Google Maps
Browse:
Tokyo Beyond Sushi - the guidebook
Explore the hidden side of Tokyo dining
Charcoal-grilled pork on skewers, udon noodles in curry-flavored soup, octopus dumplings, deep-fried beef cutlet -- there's a whole world of exciting food in Tokyo that food-loving visitors often miss out on.

This book will introduce you to more than twenty of Japan's favorite specialty foods that are less well known abroad, along with a guide to the best places in Tokyo to try them and expert tips on what to order. From Bento.com.
---