Copo do Dio
Nishi-Ogikubo: Brazilian
Copo do Dio (Nishi-Ogikubo: Brazilian)
Copo do Dio
Open 3-11:30pm (LO). Closed Wed, 1st+3rd Tue.

: Open Sundays
---
Hidden among the quiet streets north of Nishi Ogikubo station lies Copo do Dia, a tiny cafe that also functions as an informal Brazilian cultural center. The space, with its heavy wooden tables and simple white walls, is largely unadorned, the vibe calm and friendly.

Copo do Dia's proprietors, the Itos, share a passion for Brazil, and their enthusiasm is palpable. The cafe hosts free Portuguese language classes every second and fourth Tuesday evening and live musical performances twice a month.

Brazilian CDs are displayed on the large metal shelf by the register, and visitors are welcome to use the Walkman on the counter to have a listen at their tables. (All the CDs are available for purchase.)

The food menu, though limited, features a few items that bear the stamp of authenticity - paprika-spiced linguica (Portuguese sausage, Y500), flaky pastels (meat pies, Y500), and daily specials (Y900-) that range from traditional feijoada (black beans and rice) to cumin-infused chicken and okra stew.

The drinks list is full of fruit juices and cocktails based on cachaca, a rum-like sugarcane liquor. Try it straight (Y600-), in a batida with mint and fresh pineapple juice (Y730), or in Brazil's national tipple, the beloved caipirinha.

Open hours: Monday-Friday 3-11:30pm (LO); Saturdays, Sundays, holidays noon-11:30pm (LO); 2nd, 4th Tuesdays 3-7:30pm (LO).
by Melinda Joe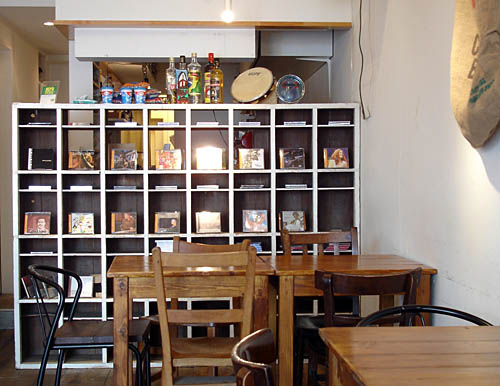 Nishi-Ogikubo
Suginami-ku, Nishi-Ogi-Kita 4-26-10-103.
Location on Google Maps
Tokyo Beyond Sushi - the guidebook
Explore the hidden side of Tokyo dining
Charcoal-grilled pork on skewers, udon noodles in curry-flavored soup, octopus dumplings, deep-fried beef cutlet -- there's a whole world of exciting food in Tokyo that food-loving visitors often miss out on.

This book will introduce you to more than twenty of Japan's favorite specialty foods that are less well known abroad, along with a guide to the best places in Tokyo to try them and expert tips on what to order. From Bento.com.
---