Ingredients:
8 slices dried yuba, each about 8 inches (20cm) square
2 ounces (60g) nagaimo yam, peeled and finely diced
8 fresh shiitake or button mushroom caps, finely diced
1/2 ounce (15g) carrot, peeled and finely chopped
1 teaspoon salt
dash white pepper
2 tablespoons cornstarch
2 tablespoons all-purpose flour, dissolved in 2 tablespoons water
vegetable oil, for deep-frying
salt, for garnish
Yuba is the skin that forms on the surface of boiled soymilk. Sold dried into sheets, it is a high-protein ingredient with a variety of uses.
Directions
1. Wrap each slice of dried yuba in a wet cloth, and leave for about 30 minutes until soft
2. Place the yam, shiitake, and carrot in a bowl, sprinkle with salt, pepper, and cornstarch, and mix well.
3. Lay out the yuba slices, divide the vegetables into 8 equal portions and place each portion on top of a yuba slice. Fold the yuba over to make rectangular envelopes, and seal using the flour-and-water mixture. Preheat the oil to 340°F (170°C) and deep-fry the envelopes until golden brown.
4. Cut the yuba envelopes in half and arrange on a serving dish, garnished with salt.
[If yuba is not available, use rice-paper wrappers.]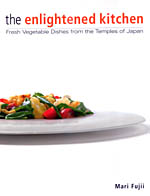 Reprinted with permission from the book:
The Enlightened Kitchen: Fresh Vegetable Dishes from the Temples of Japan
Kodansha International
While Japanese cuisine has become popular in the West, far less is known about the traditional fare originating from Japan's Buddhist temples. Natural and healthy, temple food is based on fresh seasonal vegetables, and staples such as grains and tofu. For centuries, these dishes have been a way of life - and a refreshing change of pace - for monks whose days are spent in rigorous self-discipline.
Mari Fujii delivers simple, seasonal foods with love and care. She teaches the importance of drawing out the natural flavors of ingredients rather than smothering with heavy sauces or spices. Any way you look at it, The Enlightened Kitchen is a nourishing experience for both body and soul.
ISBN4-7700-2493-2
Y2800
Source:
The Enlightened Kitchen
Copyright (c) 2005 Mari Fujii. Photos copyright 2005 by Tae Hamamura. Reprinted by permission. All rights reserved.
---