Tsukune (minced chicken patties)
Ingredients:
1 lb (450g) ground chicken (a minced combination of chicken parts such as thigh, breast, neck, and gizzards will produce richer flavor)
1/2 small onion, finely chopped
1 tbsp minced yuzu citrus peel or lemon peel
1 tsp or more salt
I doubt that there is a single secret to the deliciousness of Morimoto's tsukune patties, but one key may be the force with which Watanabe kneads his mixture, making binding agents unnecessary. Then again, it may be that these patties use meat from the whole bird, including ground cartilage. And the addition of yuzu peel is a masterstroke.
Directions
Combine all ingredients in a bowl and knead thoroughly for several minutes. If the mixture is too sticky and soft, put in refrigerator to let firm. Shape into 8 balls.
Using 2 bamboo skewers, with 1/8 inch (3mm) space between them, spread the mixture lengthwise along the skewers. Sprinkle with salt. Grill, flipping once, until the surface is lightly golden and the chicken is cooked through, for 15 minutes.
Alternatively, cook in a toaster oven without skewers: flatten the ground chicken balls into ovals, lay on a foil-lined baking sheet and bake until the chicken is cooked through.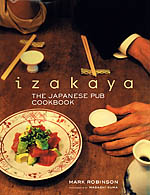 Reprinted with permission from the book:
Izakaya: The Japanese Pub Cookbook
Kodansha International
Japanese pubs, called izakaya, are attracting growing attention in Japan and overseas. As a matter of fact, a recent article in The New York Times claimed that the izakaya is starting to shove the sushi bar off its pedestal. While Japan has many guidebooks and cookbooks, this is the first publication in English to delve into every aspect of a unique and vital cornerstone of Japanese food culture.
Eight Tokyo pubs are introduced, ranging from those that serve the traditional Japanese comfort foods such as yakitori (barbequed chicken), to those offering highly innovative creations. Some of them have long histories; some are more recent players on the scene. All are quite familiar to the author, who has chosen them for the variety they represent: from the most venerated downtown pub to the new-style standing bar with French-influenced menu.
For the home chef, the hungry gourmet, the food professional, this is more than a cookbook. It is a unique peek at an important and exciting dining and cultural phenomenon.
ISBN 978-4-7700-3065-8
Y2800
Source:
Izakaya: The Japanese Pub Cookbook
Copyright (c) 2008 by Mark Robinson. Reprinted by permission. All rights reserved.
---