Ingredients:
675g / 1 1/2 lb pork spareribs, cut into 5cm/2in pieces
2 tablespoons vegetable oil
3 tablespoons dark soy sauce
3 tablespoons honey
2 tablespoons Worcestershire sauce
175ml / 6 fl oz passata
1 teaspoon ground ginger
2 garlic cloves, crushed
1/4 teaspoon Chinese five spice powder
3 tablespoons red wine vinegar
75g / 3oz soft dark brown sugar
2 tablespoons lime juice
These delicious ribs are cooked in a wok with a spicy barbecue sauce.
Directions
Prepare the ribs and heat the oil in a wok. Add the ribs and cook until brown, about 5 minutes. Reduce heat and cook for a further 10 minutes. Place all the remaining ingredients in a saucepan and heat gently to dissolve the sugar.
Pour the sauce into the wok with the ribs. Cover and cook until the ribs are cooked well through, about 30 minutes. Serve immediately.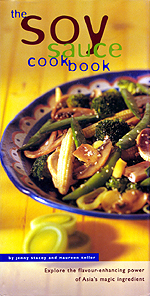 Reprinted with permission from the book:
The Soy Sauce Cookbook
Periplus Editions (HK) Ltd.
This easily overlooked ingredient is a popular choice for traditional and contemporary dishes. Whether you want adventurous appetisers or simply wish to enliven rice dishes, The Soy Sauce Cookbook will introduce you to an enticing world of new tastes.
ISBN 962 593 653X
Y2100
Source:
The Soy Sauce Cookbook
Copyright (c) 1998 Quintet Publishing Limited Reprinted by permission. All rights reserved.
---