Saikyo-zuke (sweet miso-marinated fish)
Ingredients:
2 fillets of gindara sable fish, cod or Spanish mackerel, preferably skin-on, 1/2 lb (230g) each
Sea salt
2 cups (19 oz/550g) white miso
3/4 cup (180ml) mirin
4 mild chili peppers, skin pierced and grilled
Directions
1. In a small saucepan, bring the mirin to a boil. Turn off heat, add the white miso and dissolve well. Cool to room temperature.
2. Lightly smear the fillets with salt. Put on a rack over a tray to collect drips, and place in refrigerator for 20 minutes. Rinse under cold water and pat dry with a paper towel.
3. In a flat-bottomed plastic storage container, slather the fish all over with the miso and cover with a lid. Leave in refrigerator to marinate for about a day.
4. To broil: Wipe off excess miso so that the fish is no more than lightly smeared. Broil both sides until the edges are browned and the flesh is cooked through. Serve with grilled chili peppers.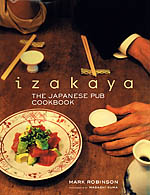 Reprinted with permission from the book:
Izakaya: The Japanese Pub Cookbook
Kodansha International
Japanese pubs, called izakaya, are attracting growing attention in Japan and overseas. As a matter of fact, a recent article in The New York Times claimed that the izakaya is starting to shove the sushi bar off its pedestal. While Japan has many guidebooks and cookbooks, this is the first publication in English to delve into every aspect of a unique and vital cornerstone of Japanese food culture.
Eight Tokyo pubs are introduced, ranging from those that serve the traditional Japanese comfort foods such as yakitori (barbequed chicken), to those offering highly innovative creations. Some of them have long histories; some are more recent players on the scene. All are quite familiar to the author, who has chosen them for the variety they represent: from the most venerated downtown pub to the new-style standing bar with French-influenced menu.
For the home chef, the hungry gourmet, the food professional, this is more than a cookbook. It is a unique peek at an important and exciting dining and cultural phenomenon.
ISBN 978-4-7700-3065-8
Y2800
Source:
Izakaya: The Japanese Pub Cookbook
Copyright (c) 2008 by Mark Robinson. Reprinted by permission. All rights reserved.
---