Ingredients:
2 tablespoons coarse-ground black pepper
2 beef steaks (rib roast or rib eye roast), about 1 pound (450g)
1 tablespoon olive oil
1 clove garlic, minced
1 1/2 tablespoons sugar
4 tablespoons (60 cc) mirin
2 2/3 tablespoons (40cc) soy sauce
3 buckwheat leaves (or cress leaves) for garnish
Directions
Pat the coarse-ground black pepper onto both sides of the beef until the meat is well coated. Heat the olive oil in a large frying pan, add the garlic, and saute until fragrant. Add the meat and cook until browned on both sides. Add the sugar, mirin, and soy sauce, and cook until the liquid thickens and coats the meat.
Cut the meat into bite-sized cubes and arrange on a serving dish. Garnish with the buckwheat or cress leaves.
Wine pairing notes
Shiraz
Cabernet Sauvignon
Shiraz, from a hot climate, is typically full-bodied, powerful, and alcoholic, with aromas and flavors frequently of pepper, mixed spice, game, and leather, accompanied by a solid core of berry fruit. These inherent qualities both cope with and complement the strong flavors of this dish.
The key ingredient in this case is the pepper. In addition, the fattier the beef the heavier the wine should be. Also keep in mind Syrah-based wines from the Rhone Valley, categorized by appellation as opposed to variety, namely Cote-Rotie or Hermitage. Heavy full-bodied reds, like Cabernet Sauvignon or Californian Zinfandel, should also marry well.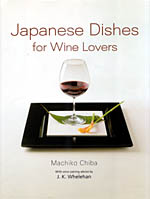 Reprinted with permission from the book:
Japanese Dishes for Wine Lovers
Kodansha International
This is a book of enormous value to anyone who not only loves preparing delectable dishes but also enjoys an often more formidable mission: the quest for suitable wines that will complement them in the most inspiring way. The authors, experts in their fields, share a common interest in something many of us have known, but which until now has never been the subject of a book. They believe that the delicate flavors and unique ingredients of Japanese cuisine - from sushi to tofu and everything in between - go extremely well with the best products of the world's wine-producing regions.
ISBN4-7700-3003-7
Source:
Japanese Dishes for Wine Lovers
Copyright (c) 2005 Machiko Chiba (recipes and basic preparation techniques) and J.K. Whelehan (wine advice). Photos copyright 2005 by Tae Hamamura. Reprinted by permission. All rights reserved.
---