Leek Stuffed with Crabmeat
Ingredients:
2 thick naganegi (or leeks)
5/6 cup (200cc) water
1 teaspoon gelatin
1/2 chicken bouillon cube
2 tablespoons fresh cream
1 tablespoon mayonnaise
dash sugar
3 1/2 ounces (100g) crabmeat, cooked and shredded
Directions
Cut the naganegi into 1 1/2 inch (4 cm) lengths, and add to a saucepan of boiling water for 6 to 7 minutes, until they are slightly soft. Drain and cool. When cool, push out and remove the centers, leaving only about 2 layers of skin.
Combine the water, gelatin, and bouillon cube in a small microwave-safe bowl, cover, and microwave for 1 minute. Take out 2 2/3 tablespoons (40cc) of the gelatin liquid and place it in a separate small mixing bowl, add the fresh cream, mayonnaise, sugar and crabmeat, and mix. Set this bowl into a larger bowl of ice to chill.
When the mixture has jelled, use it to stuff the naganegi pieces. Refrigerate the remaining gelatin mixture for about 2 hours. When chilled, spread it over a serving plate, and arrange the stuffed naganegi on top.
Wine pairing notes
Chardonnay
Vintage Champagne
As with all crustaceans, crab traditionally pairs with lighter whites. However, here combined with the sweetness from the cooked naganegi and mixed with mayonnaise and fresh cream, it requires a medium- to full-bodied white. A premium oak-aged Chardonnay that has undergone malolactic fermentation and battonage (stirring of lees), from a cool climate, such as New Zealand, matches well. The latter vinification techniques create a softer, fuller wine with a rounded acidity that counterbalances the ingredients of the dish.
Alternatively, try a Chardonnay from Burgundy, the key here being to have Premier Cru or Grand Cru on the label and a good vintage. The full, rounded character of a vintage Champagne partners the naganegi, while cutting through the oil in the mayonnaise to create perfection.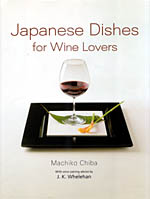 Reprinted with permission from the book:
Japanese Dishes for Wine Lovers
Kodansha International
This is a book of enormous value to anyone who not only loves preparing delectable dishes but also enjoys an often more formidable mission: the quest for suitable wines that will complement them in the most inspiring way. The authors, experts in their fields, share a common interest in something many of us have known, but which until now has never been the subject of a book. They believe that the delicate flavors and unique ingredients of Japanese cuisine - from sushi to tofu and everything in between - go extremely well with the best products of the world's wine-producing regions.
ISBN4-7700-3003-7
Source:
Japanese Dishes for Wine Lovers
Copyright (c) 2005 Machiko Chiba (recipes and basic preparation techniques) and J.K. Whelehan (wine advice). Photos copyright 2005 by Tae Hamamura. Reprinted by permission. All rights reserved.
---