Ingredients:
1 tablespoon vegetable oil
2 tablespoons butter
4 chicken breasts, boned
1 garlic clove, crushed
2 leeks, sliced
1 red pepper, cut into strips
50g / 2 oz baby corn cobs, halved lengthways
2 tablespoons soft brown sugar
4 tablespoons honey
250ml / 8 fl oz chicken stock
2 tablespoons light soy sauce
3 pieces bottled stem ginger, sliced
2 tablespoons syrup from bottled ginger
2 tablespoons garlic wine vinegar
2 tablespoons cornflour
This honey and ginger sauce has a wonderful taste and aroma, and complements the poultry perfectly. Try using turkey as a substitute for chicken for an equally delicious dish.
Directions
Heat the oil and butter in a frying pan or wok until the butter has melted. Add the chicken and cook for 5 minutes, turning. Add the garlic and leeks and cook for a further 3 minutes. Stir in the red pepper, baby corn, sugar, honey, stock, soy sauce, stem ginger, ginger syrup and vinegar.
Reduce the heat to a simmer and cook until the chicken is cooked well through, about 20 minutes. Blend the cornflour with 4 tablespoons of cold water and stir into the pan. Bring to the boil and cook until the sauce is thickened and clear. Cook for a further 2 minutes and serve.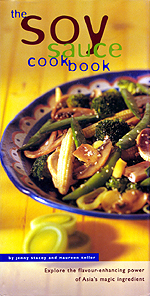 Reprinted with permission from the book:
The Soy Sauce Cookbook
Periplus Editions (HK) Ltd.
This easily overlooked ingredient is a popular choice for traditional and contemporary dishes. Whether you want adventurous appetisers or simply wish to enliven rice dishes, The Soy Sauce Cookbook will introduce you to an enticing world of new tastes.
ISBN 962 593 653X
Y2100
Source:
The Soy Sauce Cookbook
Copyright (c) 1998 Quintet Publishing Limited Reprinted by permission. All rights reserved.
---