Flat Fish with Salt (Karei Shio-yaki)
Ingredients:
1 1/3 lb (600g) flat fish, such as flounder, sole or pomfret
2 tablespoons salt
Lemon wedge to garnish
10 oz (300g) daikon (giant white radish), very finely grated and squeezed to extract moisture
Lotus root garnish:
2 oz (60g) fresh lotus root, peeled and thinly sliced
3 tablespoons (50ml) Sweet Vinegar*
1 red chili, seeds discarded
1/3 cup (80ml) ponzu sauce**
Sprinkling fresh fish liberally with salt before grilling helps keep in the moisture.
Directions
Prepare lotus root garnish several hours before it is required. Boil the sliced lotus root in water for 30 seconds, drain and put it in the sweet vinegar. Heat the chili in a dry pan for a few seconds, then add to the vinegar and ponzu sauce. Refrigerate.
Clean and scale the fish. Dry with a paper towel and make two deep crosswise incisions on each side. Put a skewer through the tail end of the fish, making it come out in the center and continuing to the head so that the fish has a wave shape. Sprinkle both sides of the fish lightly with salt, then press a liberal amount of salt onto the tail and fins.
Cook the fish over a moderately hot charcoal fire or under a broiler (grill) turning it with the skewer to avoid damaging the skin, until the fish is golden on both sides and cooked through. Serve on a plate garnished with lemon wedge, grated daikon and the marinated lotus root.
* See recipe for Sweet Vinegar
** See recipe for ponzu sauce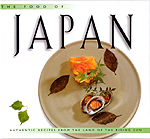 Reprinted with permission from the book:
The Food of Japan
Periplus Editions (HK) Ltd.
The unique quality of Japanese cuisine lies not so much in its ingredients but in its spirit and philosophy. The essence of Japan is captured in this collection of recipes ranging from rustic one-pot dishes such as soba noodles to elegant and exotic presentations. This book of recipes, gathered and photographed in Japan, also introduces the reader to the cultural attitudes which have shaped the cuisine of The Land of the Rising Sun.
ISBN 962 593 392 1
Source:
The Food of Japan
Copyright (c) 2000 Periplus Edition (HK) Ltd. Reprinted by permission. All rights reserved.
---