Audrey
Jimbocho: Soup curry
Audrey (Jimbocho: Soup curry)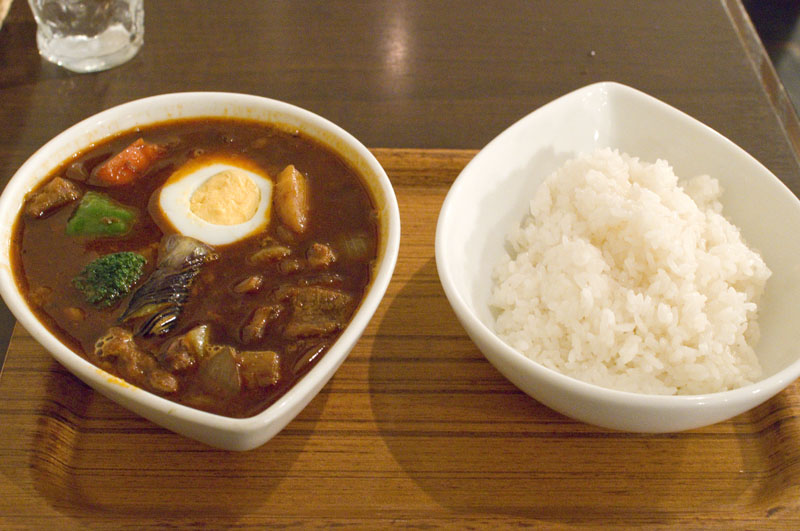 Audrey
Open 11am-3, 5-9pm (LO; Sun 11-8). Closed Saturdays.

: Open Sundays
---
While some soup-curry shops affect a hip-cafe vibe, and others go all out with exotic "ethnic" decor, Audrey seems to be going for a Showa-era kissaten theme. The exterior of the shop looks almost abandoned, or at least long neglected, while the two-level interior sports classic mid-century heavy wood furnishings reminiscent of grandpa's favorite coffee shop. The soundtrack plays enka and 1950s rock. Most important, though, the soup curry is very good.

The beef soup curry is the house special - it's a deep, richly flavored, onion-heavy soup loaded with chunks of succulent beef along with sweet carrots, potatoes, onions and a few other vegetables. It's not quite as vegetable-laden as some soup curries around town, focused more on the excellent beef at its heart. It comes in two sizes, with 120 grams of beef or 200 grams.

In case the beef runs out (quantities are limited), other main ingredient options include Hamburg steak, sliced pork, deep-fried pork cutlet, chicken and all-vegetable. You'll also need to choose your soup, either "black" (made with pork bones and vegetables) or "red" (chicken with vegetables), although the beef comes with black soup only. Spiciness can be specified on a scale of one to four.

Audrey also serves some unexpected side dishes like corned-beef salad, tuna salad and Korean-style yakiniku salad. Prices start at Y900.
Jimbocho
Chiyoda-ku, Kanda Ogawamachi 3-10-18.
Location on Google Maps
Browse:
Tokyo Beyond Sushi - the guidebook
Explore the hidden side of Tokyo dining
Charcoal-grilled pork on skewers, udon noodles in curry-flavored soup, octopus dumplings, deep-fried beef cutlet -- there's a whole world of exciting food in Tokyo that food-loving visitors often miss out on.

This book will introduce you to more than twenty of Japan's favorite specialty foods that are less well known abroad, along with a guide to the best places in Tokyo to try them and expert tips on what to order. From Bento.com.
---