Qibao Malatang
Iidabashi: Szechuan
Qibao Malatang (Iidabashi: Szechuan)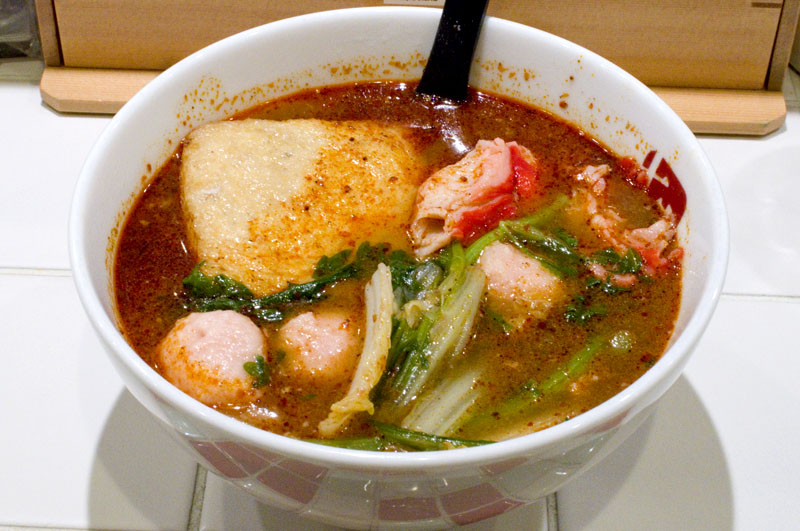 Qibao Malatang
Open 11:30am-10:45pm (LO) daily.

: Open Sundays
---
Qibao serves only one dish - spicy Szechuan-style soup with glass noodles. The soup is infused with a blend of medicinal herbs, and to keep things interesting there are dozens of optional extra ingredients that you can mix and match to fill up your bowl.

Some popular ingredient choices include dumplings stuffed with shrimp and crabmeat, leafy vegetables like spinach, bok choy and shungiku, and enticing combinations like bacon-wrapped cheese and fried tofu stuffed with ground pork. These add-on toppings come in pre-measured packets, and they're lined up in a big refrigerated cabinet at the shop's entrance.

You can start with three toppings (along with the base noodles and soup) for Y750 plus tax. It's always tempting to order a few more though, and additional toppings are priced at just Y110 each. After you've selected your main ingredients the next step is to choose a level of spiciness from 0 to 6 or more.

Alternatively you can start from zero and add your own condiments from the counter. These include Szechuan peppercorns fresh from the grinder, powdered Szechuan pepper, and Szechuan pepper oil as well as garlic, ginger and soy sauce. Thai-style Tom Yam seasoning is another option for your soup, but it tends to overwhelm the other flavors, so it's not really recommended.

The drinks list features "craft sour" cocktails, beer and wine, and you're also welcome to bring your own wine, subject to an Y800 corkage charge per bottle. The restaurant setup is mainly counter seating, although there are a few tables at the very back. Payment is by credit card or electronic payment only; cash is not accepted. Take-out service is available.
Iidabashi
Chiyoda-ku, Fujimi 2-2-9.
Location on Google Maps
Tokyo Beyond Sushi - the guidebook
Explore the hidden side of Tokyo dining
Charcoal-grilled pork on skewers, udon noodles in curry-flavored soup, octopus dumplings, deep-fried beef cutlet -- there's a whole world of exciting food in Tokyo that food-loving visitors often miss out on.

This book will introduce you to more than twenty of Japan's favorite specialty foods that are less well known abroad, along with a guide to the best places in Tokyo to try them and expert tips on what to order. From Bento.com.
---