Charbro
Musashi Kosugi: American
Charbro (Musashi Kosugi: American)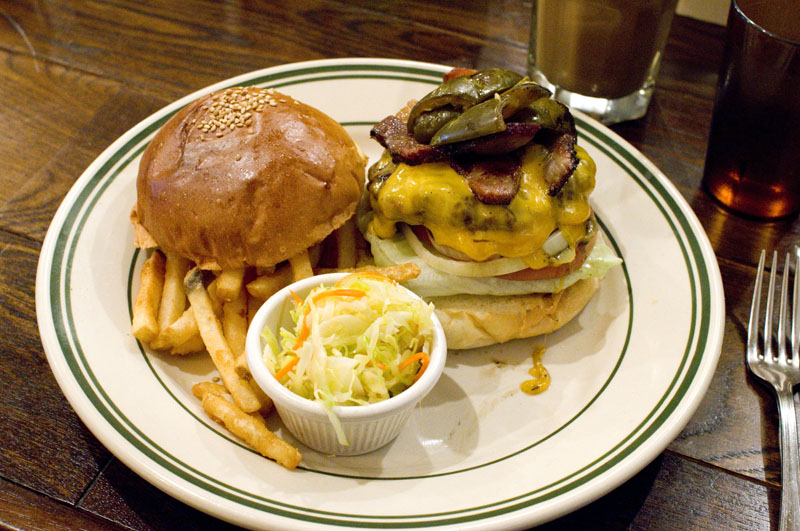 Charbro
Open 11:30am-2:30, 6-10:30pm (LO). Closed Mondays, Tuesdays.

: Open Sundays
---
This cozy neighborhood spot serves a great line-up of burgers and sandwiches. The burgers are some of the best in town, with a pleasant infusion of charcoal flavoring from the grill, and they're served with excellent home-made bacon, crisp thinly cut fries and good cole slaw. There are also plenty of optional toppings such as grilled jalapenos and chili con carne.

In the evenings the menu expands to include a fair number of starters and specials. Our chili con carne with cornbread was meaty and very tasty, and the jalapeno poppers were quite enticing. On the other hand the "guacamole" was quite bland and seemed to consist almost entirely of mashed avocado. BBQ smoked back ribs are also served in the evening, but we'd recommend sticking with the burgers.

Two taps dispense craft beers from Gigantic Brewing in Portland, Oregon, and Be Easy in Aomori, and this seems like an adequate beer selection for a shop this size. You can also choose from several California wines by the glass or bottle. The two-story space is set up with counter seating on the first floor and tables upstairs. The background music tends towards country rock, blues, Steely Dan and Bob Dylan.

Lunchtime burgers start at Y1000 for a regular burger and Y1300 for a Bacon Cheeseburger; coffee or tea is included in the price. Budget around Y3000-4500 for food and drink at dinnertime. Burgers and sandwiches are ready to take out at both lunch and dinnertime.
Musashi Kosugi
Nakahara-ku, Kawasaki, Shin-Maruko-Higashi 2-906-30.
武蔵小杉
神奈川県川崎市中原区新丸子東2-906-30
Location on Google Maps