Dasenka
Yotsuya 3-chome: Czech
Dasenka (Yotsuya 3-chome: Czech)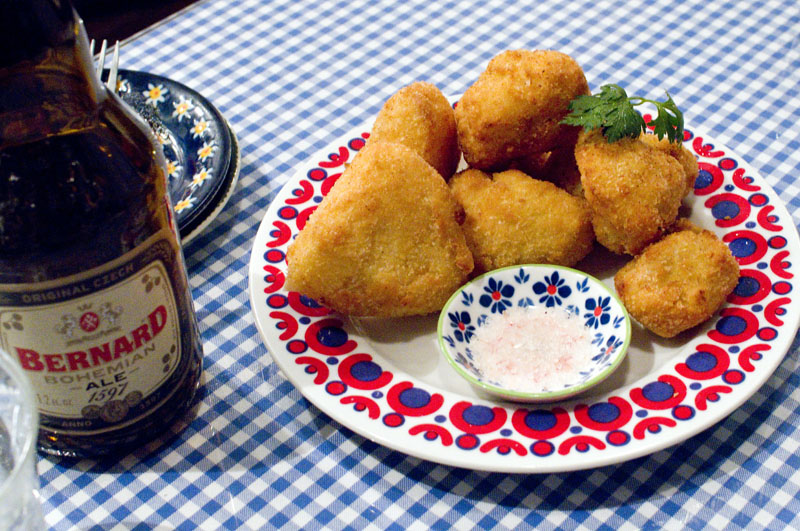 Dasenka
Open 6pm-midnight (Sat, Sun 5-11pm). Closed Tuesdays.

: Open Sundays
: No smoking
---
Dasenka is a cozy, charmingly quirky basement restaurant that serves excellent Czech and Eastern European fare. You can feast on stick-to-your-ribs dishes like Moravsky Brabec (slightly fatty Moravian-style roast pork), Bigos (Polish "Hunter's Stew"), Bramborak potato pancakes, and Smazeny Kvetak (cheese-stuffed cauliflower fritters) - all of them highly recommended. Pickled mushrooms, pickled beets and sauerkraut complement the meatier dishes and provide a nice acidic balance.

The extensive drinks menu includes Pilsner Urquell on tap and other Czech beers by the bottle along with an impressive selection of herbal liqueurs. The wine list is quite diverse, with numerous Eastern European wines and reasonable prices.

The homey dining room has space for 22 customers (including seven at the counter), and it's dominated by an entire wall of bookshelves as well as collections of Czech knick-knacks and exotic liquor bottles. Budget around Y4000-5000 for a very filling meal with drinks.
Yotsuya 3-chome
Shinjuku-ku, Funamachi 5-25, TSI Funamachi Bldg B1F.
Žl'JŽO
"Œ‹ž"sVh‹æM'¬5-25 TSIM'¬ƒrƒ‹B1F
Location on Google Maps
Tokyo Beyond Sushi - the guidebook
Explore the hidden side of Tokyo dining
Charcoal-grilled pork on skewers, udon noodles in curry-flavored soup, octopus dumplings, deep-fried beef cutlet -- there's a whole world of exciting food in Tokyo that food-loving visitors often miss out on.

This book will introduce you to more than twenty of Japan's favorite specialty foods that are less well known abroad, along with a guide to the best places in Tokyo to try them and expert tips on what to order. From Bento.com.
---