Eat (Kita-Sando: Burgers)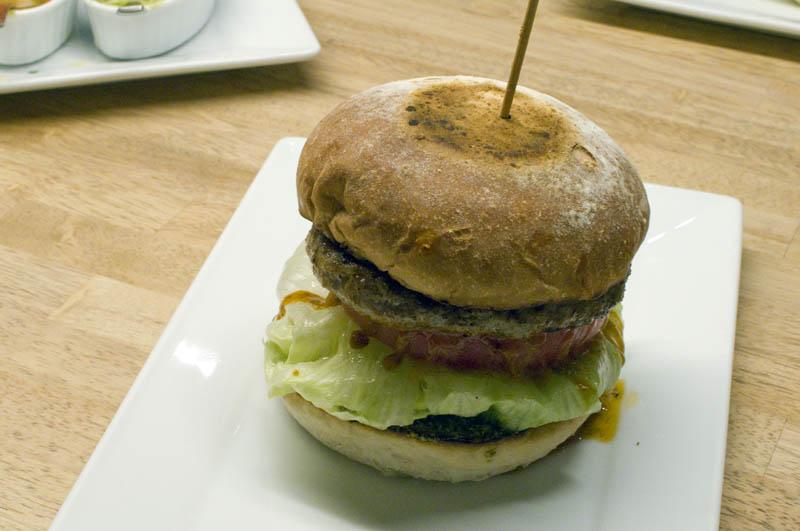 Eat
Open 11:30am-3, 6-10pm (LO) daily.

: Open Sundays
: No smoking
---
This cozy American-style gourmet diner serves one of the few lamb burgers in town, and they do a terrific job. With minimal dressing on the burger, it's all about the very flavorful meat, beautifully grilled and lightly seasoned. They also serve 100% beef burgers, and meaty main dishes like grilled lamb chops, skirt steaks, Hokkaido pork confit and Iberico pork sausages.

Balancing out all that meat are appetizing vegetable side dishes like sauteed broccoli in anchovy butter, steamed-cabbage bagna cauda, and a lovely Caesar salad. The home-made tortilla chips make a nice starter for the table, served with excellent dips like pico de gallo, black-bean hummus, and some of the best guacamole in town.

Most wines are priced Y2400-6000 per bottle, Y600 per glass, or you can opt for mojitos, frozen margaritas or other cocktails. Happy Hour (6-7pm) drinks are just Y450. There's an English-language menu and take-out service, and Sunday is doggy day, when you can bring your pet with you to lunch or dinner. Budget around Y3000 for dinner with drinks, Y1200 for lunch.
Kita-Sando
Shibuya-ku, Sendagaya 4-10-4.
Location on Google Maps
Tokyo Beyond Sushi - the guidebook
Explore the hidden side of Tokyo dining
Charcoal-grilled pork on skewers, udon noodles in curry-flavored soup, octopus dumplings, deep-fried beef cutlet -- there's a whole world of exciting food in Tokyo that food-loving visitors often miss out on.

This book will introduce you to more than twenty of Japan's favorite specialty foods that are less well known abroad, along with a guide to the best places in Tokyo to try them and expert tips on what to order. From Bento.com.
---