Orihara Shoten
Monzennakacho: Liquor shop
Orihara Shoten (Monzennakacho: Liquor shop)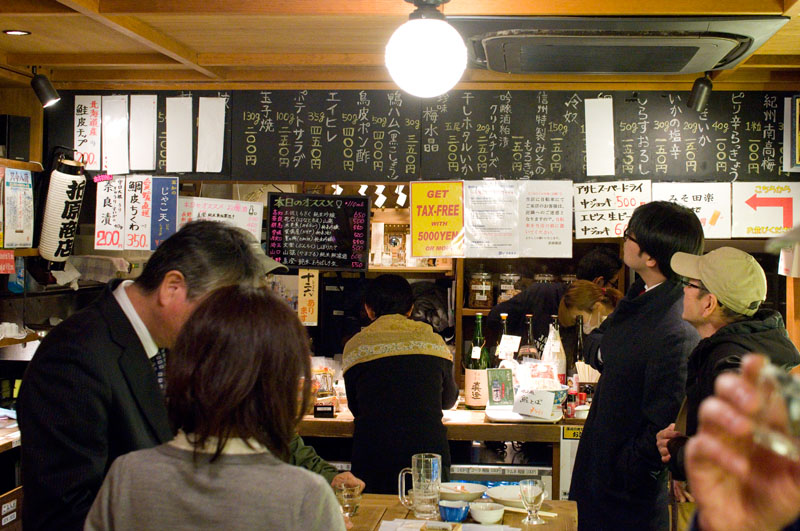 Orihara Shoten

: Open Sundays
: No smoking
---
This neighborhood liquor shop runs a very popular sake-tasting standing bar where you'll find a decent selection of craft sake and a serviceable menu of sake-friendly light snacks. It's a very convivial evening drinking spot, where it's easy to end up chatting with the people you're sharing your table with, especially if you like talking about sake.

There are around forty different bottles available for tasting at any given time - look in the row of refrigerators for non-full bottles that have a tag on them listing prices by the glass. Open bottles will have two prices listed, for small (45ml) and large (90ml) glasses. Typical prices are Y300 for small and Y550 for large, but some sakes are more expensive.

When you've found something you want to try, bring the bottle up to the counter, tell them whether you want a small or large glass, then after your glass has been poured bring the bottle back to the refrigerator where you found it. They also have beer by the bottle (standard Japanese lagers only) and bottles of water for when you want a break from sake.

The small food menu includes inexpensive, sake-friendly snacks like eihire (grilled ray fins) with mayonnaise, Nara-style pickled radish, and a vat of various oden ingredients if you want something more substantial. There's also a yakitori restaurant upstairs, under the same management, if you prefer drinking sake while seated.
Monzennakacho
Koto-ku, Tomioka 1-13-11.
Location on Google Maps