Somtum Der (Yoyogi: Thai)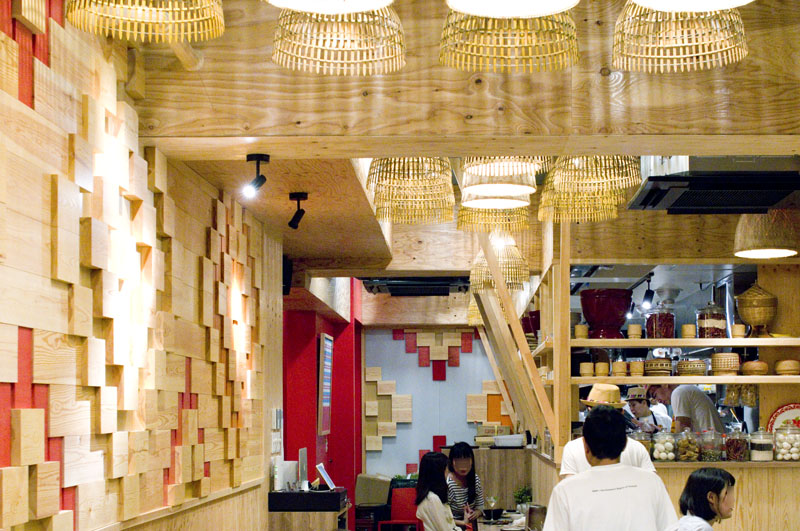 Somtum Der
Open 11:30am-3, 5-11pm. Closed Mondays.

: Open Sundays

: Notable decor
---
The modern, stylishly decorated Somtum Der has a more cosmopolitan feel to it than most Tokyo Thai restaurants, and indeed it has an impressive international pedigree, with branches in New York, Beijing and Ho Chi Min City as well as Bangkok. You'll find a good variety of original Thai dishes, particularly Isan dishes from northeastern Thailand. Among these are eight different varieties of very spicy somtum (papaya salad), after which the restaurant is named.

Overall, the quality level of the food here is on a par with Tokyo's better Thai restaurants, although some dishes are more interesting than others, so it's worth exploring the menu. Recent highlights included an excellent spicy minced grilled-catfish salad, and a well-made, fairly orthodox version of marinated raw-pork Isan-style sausages, served with slices of raw ginger.

The crispy deep-fried chicken thighs were perked up by a dipping sauce that was more complex than the standard sweet-and-spicy version that one usually finds. The papaya salad with vermicelli in fermented fish sauce was tasty, but unfortunately it was far too chili-laden even for two spicy-food fans to finish. And the braised Chinese cabbage was rather one-dimensional, which was surprising as it was highly recommended by our server as a house special.

The drinks list is definitely a cut above average for Tokyo Thai - there are fun cocktails (Coriander Mojito, Lemongrass Martini), Thai herbal drinks (lemongrass juice), and a handful of decent, budget-friendly wines priced at Y2000-4000 per bottle. Service is friendly and efficient, and the atmosphere is lively. Budget around Y4000-5000 at dinnertime for food and drink; lunches are priced Y850-1650. Reservations are recommended at dinnertime.
Yoyogi
Shibuya-ku, Yoyogi 1-58-10.
Location on Google Maps