Le Petit l'Ouest
Shimo-Kitazawa: Liquor shop
Le Petit l'Ouest (Shimo-Kitazawa: Liquor shop)
Le Petit l'Ouest
Open 4-11pm (Sat 2-11, Sun 2-9). Closed Tuesdays.

: Open Sundays
: No smoking
---
This Star Wars-themed neighborhood liquor shop stocks a wide selection of over 100 Japanese craft beers, one of the better selections in town. It helps to know what you're looking for though, as there are plenty of clunkers as well as hidden gems.

There's a small tasting corner in the front part of the shop where you can stand and drink your purchases for an extra Y100 per-bottle corkage charge. The management makes a point of explaining that this is just a tasting area, not a bar, so they discourage loud coversation and don't allow groups of more than three people.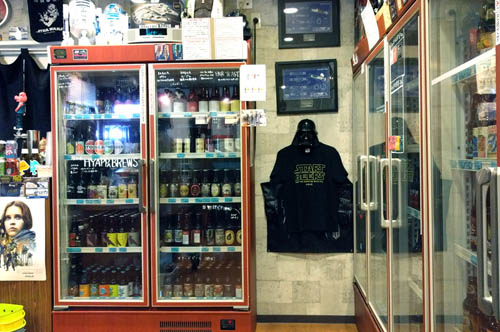 Shimo-Kitazawa
Setagaya-ku, Daizawa 5-28-16.
Location on Google Maps
Tokyo Beyond Sushi - the guidebook
Explore the hidden side of Tokyo dining
Charcoal-grilled pork on skewers, udon noodles in curry-flavored soup, octopus dumplings, deep-fried beef cutlet -- there's a whole world of exciting food in Tokyo that food-loving visitors often miss out on.

This book will introduce you to more than twenty of Japan's favorite specialty foods that are less well known abroad, along with a guide to the best places in Tokyo to try them and expert tips on what to order. From Bento.com.
---