Leckermaul
Edogawabashi: German
Leckermaul (Edogawabashi: German)
Leckermaul
Open 11:30am-2, 5:30-10:30pm (LO) daily.

: Open Sundays
---
Flammkuchen - the Alsatian and southern German answer to pizza - is served here in versions both savory (black forest ham, zucchini-anchovy) and sweet (apple-cinnamon, banana-rum), along with wine by the glass or bottle. Although it's made without cheese, the black-forest versions incorporate a tangy, almost cheesy sauce that complements the toppings very well.

Besides flammkuchen they also offer German-style dishes like schnitzel and goulash with spaetzle, and a delicious, hearty mushroom soup. Several German beers like Schneider and Erdinger are available by the bottle.

The narrow dining room is simple but stylish, with art on the walls during regular exhibitions. The restaurant attracts mostly a neighborhood crowd, and is popular with families on weekends.

Lunch specials start at Y1150 and include a combo plate with both savory and dessert flammkuchen, or a home-made curry served with salad.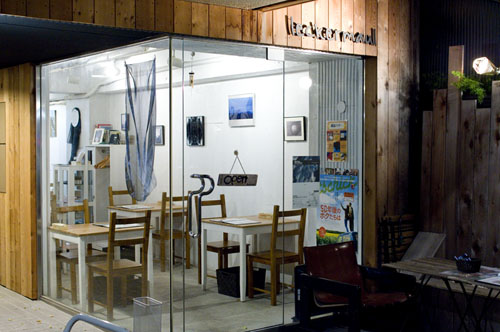 Edogawabashi
Bunkyo-ku, Mejirodai 1-24-8.
Location on Google Maps