Tavern on S
Nishi-Shinjuku: International
Tavern on S (Nishi-Shinjuku: International)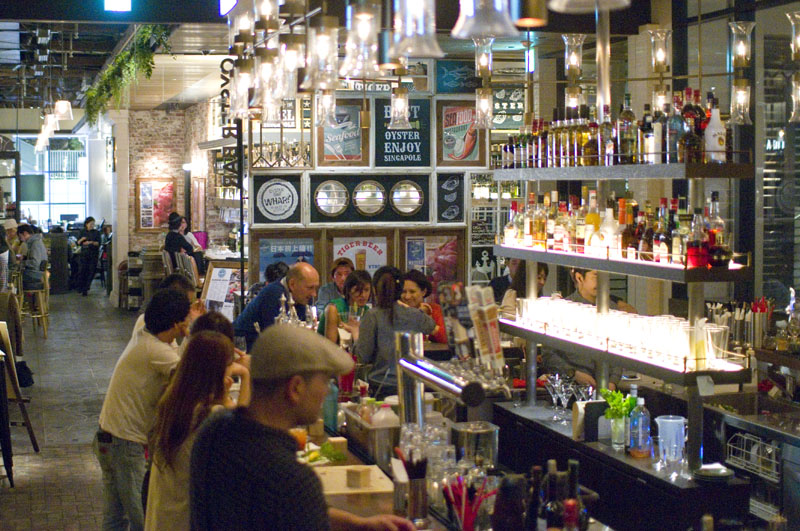 Tavern on S
Open 7am-3:15am (LO) daily.

: Open late

: Open Sundays

: Notable decor
: No smoking
---
Open 21 hours a day and conveniently located next to Shinjuku Station's south exit, this glitzy new bar-restaurant is a fun destination whatever you're looking for - a casual group dinner, a late-night snack or just a quick drink or two at the bar. The large dining room is lavishly decorated and quite lively, with a standing bar up front and a greenery-shielded open-air section facing Southern Terrace's pedestrian walkway.

The kitchen turns out a mix of tempting late-night drink-friendly fare (lobster deviled eggs, smoky tomato square pizza and "crazy hot chicken") and creative interpretations of standards like grilled swordfish, bagna cauda and burgers. Be prepared for surprises - our kefta-style meatballs in tomato tapenade incorporated tasty beef tongue, and our delicious falafel balls with tahini sauce were definitely falafel-flavored but more like tiny dumplings in texture.

The bar serves several imported craft beers from US breweries like Ballast Point, Saint Archer and Schooner Exact, along with tropical drinks and a range of botanical cocktails like elderflower fizz. There's a decent list of budget wines priced at Y2500 per bottle, and an impressive selection of Mocktails for non-drinkers.

Service is friendly and professional, seating is comfortable, and the background music is bouncy without being frenetic. Budget around Y3000-4000 for a dinner-size helping of small dishes and drinks.
Nishi-Shinjuku
Shibuya-ku, Sendagaya 5-24-55, Food Hall Newoman 2F.
Location on Google Maps
Tokyo Beyond Sushi - the guidebook
Explore the hidden side of Tokyo dining
Charcoal-grilled pork on skewers, udon noodles in curry-flavored soup, octopus dumplings, deep-fried beef cutlet -- there's a whole world of exciting food in Tokyo that food-loving visitors often miss out on.

This book will introduce you to more than twenty of Japan's favorite specialty foods that are less well known abroad, along with a guide to the best places in Tokyo to try them and expert tips on what to order. From Bento.com.
---