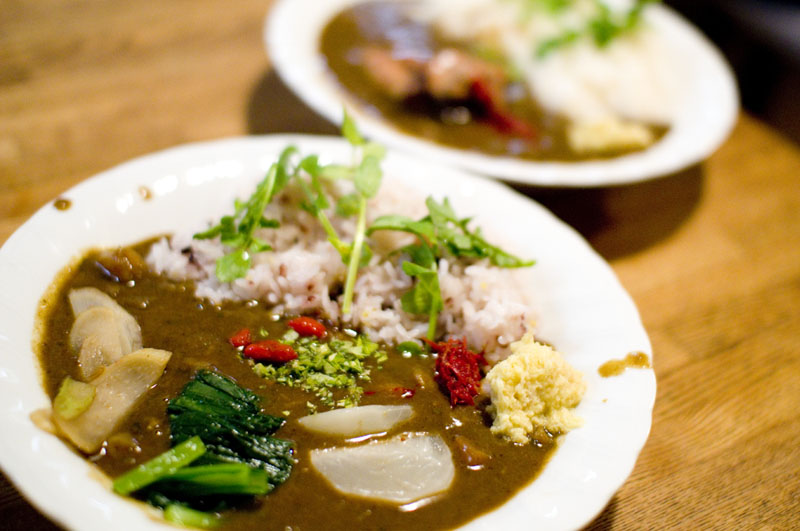 Jinenjo
Open 11:30am-4, 5:30-9:30pm (LO). Closed Mondays.

: Open Sundays
---
Japanese curries made with medicinal herbs are the specialty here, and while we can't vouch for any possible health benefits, we can confirm that they're at least very tasty. We enjoyed an excellent seasonal vegetable curry, chock full of fresh-tasting turnips, spinach and mountain vegetables (sansai), while the chicken curry showcased a very soft and well-simmered chicken leg. The roux is thick and deeply flavorful, with just a bit of bite to it.

The decor and ambiance have an old-fashioned shitamachi feel, in keeping with the neighborhood, and service is friendly and personal. Curries range from Y960-1030, and an upgrade to five-grain rice (vs. standard white rice) is an extra Y50. On Thursdays they serve lunch only, no dinner.
Nippori
Taito-ku, Yanaka 5-9-25.
"ú•é—¢
"Œ‹ž"s'ä"Œ‹æ'J'†5-9-25
Location on Google Maps
Tokyo Beyond Sushi - the guidebook
Explore the hidden side of Tokyo dining
Charcoal-grilled pork on skewers, udon noodles in curry-flavored soup, octopus dumplings, deep-fried beef cutlet -- there's a whole world of exciting food in Tokyo that food-loving visitors often miss out on.

This book will introduce you to more than twenty of Japan's favorite specialty foods that are less well known abroad, along with a guide to the best places in Tokyo to try them and expert tips on what to order. From Bento.com.
---