Green Bashamichi
Yokohama Bashamichi: Grill
Green Bashamichi (Yokohama Bashamichi: Grill)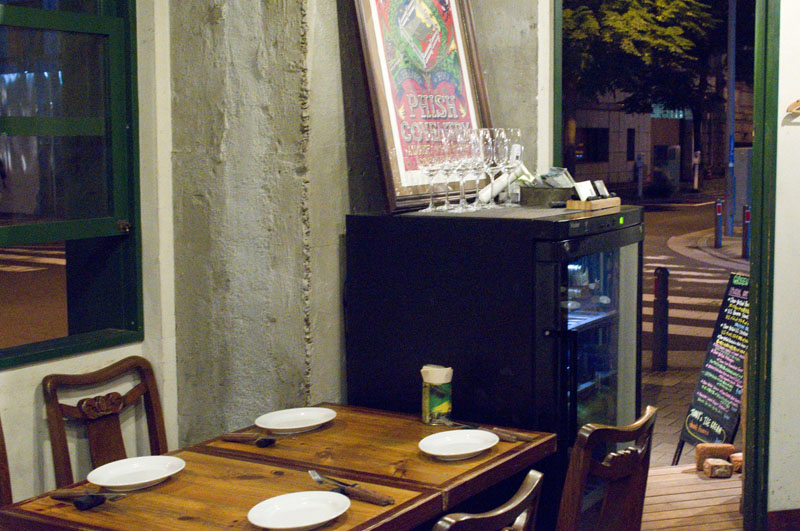 Green Bashamichi
Open 11:30am-2, 5pm-midnight. Closed Sundays.
: No smoking
---
Charcoal Grill Green Bashamichi serves up a very appealing menu of grilled meats and seafood along with creative starters, California wines and a handful of local craft beers. The setup is casual bistro-style, with a comfortable eight-seat counter looking over the open kitchen in addition to a handful of small tables. It's the kind of place where it's easy to drop in for just a drink and a snack if you don't want a full meal.

Rosemary chicken, lamb chops, steaks, heirloom-breed pork, duck breast and "catch of the day" are among the charcoal-grilled options, with mixed-grill platters for larger groups. There are several salads to choose from - available in half sizes if you're dining solo - and intriguing starters like hot-and-sour pork-pepper soup, and marinated saury and mushrooms with yuzu jelly. They also do cheeseburgers if you want to keep things simple.

California and Washington wines start at around Y3200 a bottle, with six or seven wines by the glass. This shop was also an early pioneer in the craft-beer scene, and the rotating selection of four draft beers tends to feature very local Yokohama and Kanagawa breweries, with large glasses priced at Y980. Budget around Y3500-4500 for a full dinner with drinks.
Yokohama Bashamichi
Naka-ku, Yokohama, Bentendori 6-79.
‰¡•l"nŽÔ"¹
‰¡•lŽs'†‹æ•Ù"V'Ê6-79
Location on Google Maps