Vivo Daily Stand
Yoyogi: Wine bar
Vivo Daily Stand (Yoyogi: Wine bar)
Vivo Daily Stand
Open 5pm-2am (Fri -3am) daily.

: Open late

: Open Sundays
---
A chain of neighborhood wine bars, Vivo offers decent wines at inexpensive prices (from Y500), with a rotating selection of ten wines by the glass. If you're hungry, there are cheeses, cured meats and small tapas-style plates to choose from, all priced at just Y400. This Yoyogi branch is rather compact, with three or four seats plus a bit of standing room.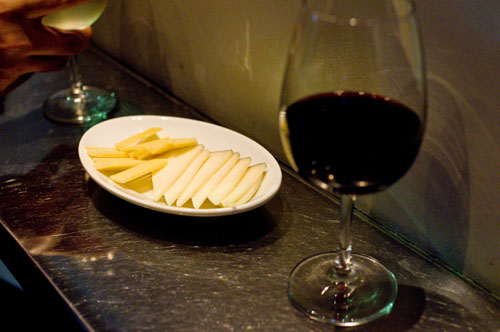 Yoyogi
Shibuya-ku, Yoyogi 1-10-7.
Location on Google Maps
Browse:
Tokyo Beyond Sushi - the guidebook
Explore the hidden side of Tokyo dining
Charcoal-grilled pork on skewers, udon noodles in curry-flavored soup, octopus dumplings, deep-fried beef cutlet -- there's a whole world of exciting food in Tokyo that food-loving visitors often miss out on.

This book will introduce you to more than twenty of Japan's favorite specialty foods that are less well known abroad, along with a guide to the best places in Tokyo to try them and expert tips on what to order. From Bento.com.
---