Roast Works: The Coffeeshop
Yoyogi-Koen: Coffee shop
Roast Works: The Coffeeshop (Yoyogi-Koen: Coffee shop)
Roast Works: The Coffeeshop

: Open Sundays
---
True to its name, this spacious venue is both a cafe and coffee-bean roastery, and its industrial-chic interior is dominated by bean-roasting and coffee-producing equipment. Most impressive is the Steampunk "craft brewing" machine behind the counter, which facilitates a smooth, clear, delicious brew based on custom-specified parameters that control everything from water temperature and volume to agitation time.

Setting a house brewing style on the machine is meant to assure consistency in each cup of coffee served, although of course the results vary depending on the type of bean used. French press and Aeropress styles can also be specified when you order, along with the type of bean.

Although the overall space is large, seating options are quite limited, so many customers get their coffee to go. Note that the menu is limited to straight specialty coffee - no espresso beverages here, or milk and sugar - this is coffee for purists. They also sell fresh-roasted beans by the bag, starting at Y600 for 100 grams.
by Mary Sedarous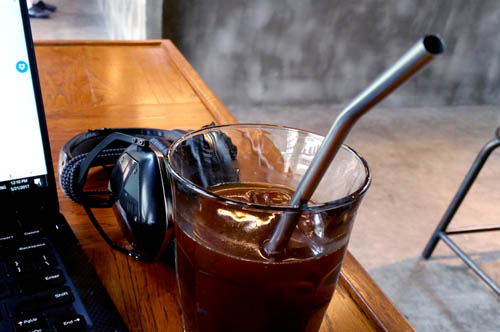 Yoyogi-Koen
Shibuya-ku, Tomigaya 2-22-12.
Location on Google Maps
Tokyo Beyond Sushi - the guidebook
Explore the hidden side of Tokyo dining
Charcoal-grilled pork on skewers, udon noodles in curry-flavored soup, octopus dumplings, deep-fried beef cutlet -- there's a whole world of exciting food in Tokyo that food-loving visitors often miss out on.

This book will introduce you to more than twenty of Japan's favorite specialty foods that are less well known abroad, along with a guide to the best places in Tokyo to try them and expert tips on what to order. From Bento.com.
---