Tsuruya Vino
Yotsuya 3-chome: Wine bar
Tsuruya Vino (Yotsuya 3-chome: Wine bar)
Tsuruya Vino
Open 6pm-2am. Closed Sundays.

: Open late
---
This tiny neighborhood wine bar has the unusual policy of letting you try before you buy - you can take a sip or two of whatever bottles are open before committing to their wine by the glass. The food is also quite good, with game birds and meats in season and numerous smaller dishes if you just want a quick nibble. Budget around Y4000-7000 at dinnertime.

(Note: this is one of two wine bars in the same building - the other is called Chiori.)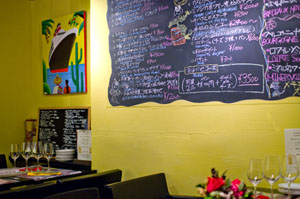 Yotsuya 3-chome
Shinjuku-ku, Arakicho 7-3, Monserrat Yotsuya 1F.
四谷三
東京都新宿区荒木町7-3 モンセラート四谷1F
Location on Google Maps
Tokyo Beyond Sushi - the guidebook
Explore the hidden side of Tokyo dining
Charcoal-grilled pork on skewers, udon noodles in curry-flavored soup, octopus dumplings, deep-fried beef cutlet -- there's a whole world of exciting food in Tokyo that food-loving visitors often miss out on.

This book will introduce you to more than twenty of Japan's favorite specialty foods that are less well known abroad, along with a guide to the best places in Tokyo to try them and expert tips on what to order. From Bento.com.
---