Aomori Hokusai-kan
Iidabashi: Antenna shop
Aomori Hokusai-kan (Iidabashi: Antenna shop)
Aomori Hokusai-kan

: Open Sundays
---
Apples are Aomori's signature agricultural product, and this Aomori antenna shop sells fresh apples, apple juices (including single-varietal juices), apple-juice vinegars and ponzu, apple brandies, dried apples, apple jellies and apple-flavored soy sauces and salad dressings. Tomato juices and jellies are also well represented.

There's also fresh garlic (white and black), garlic products, takuan pickles, honeys, dried scallops and squid, and frozen hokke and other fish. Of course there's a good selection of a couple dozen sake in bottles of all sizes, including limited-edition seasonal labels. Unfortunately they play nonstop shamisen music, which is also available to take home from the CD section of the store.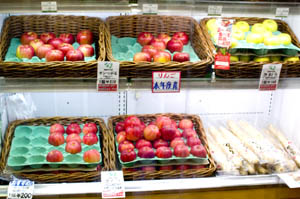 Iidabashi
Chiyoda-ku, Fujimi 2-3-11.
飯田橋
東京都千代田区富士見2-3-11 青森県会館1階
Location on Google Maps
Browse:
Tokyo Beyond Sushi - the guidebook
Explore the hidden side of Tokyo dining
Charcoal-grilled pork on skewers, udon noodles in curry-flavored soup, octopus dumplings, deep-fried beef cutlet -- there's a whole world of exciting food in Tokyo that food-loving visitors often miss out on.

This book will introduce you to more than twenty of Japan's favorite specialty foods that are less well known abroad, along with a guide to the best places in Tokyo to try them and expert tips on what to order. From Bento.com.
---