Kushiro
Marunouchi: Japanese regional
Kushiro (Marunouchi: Japanese regional)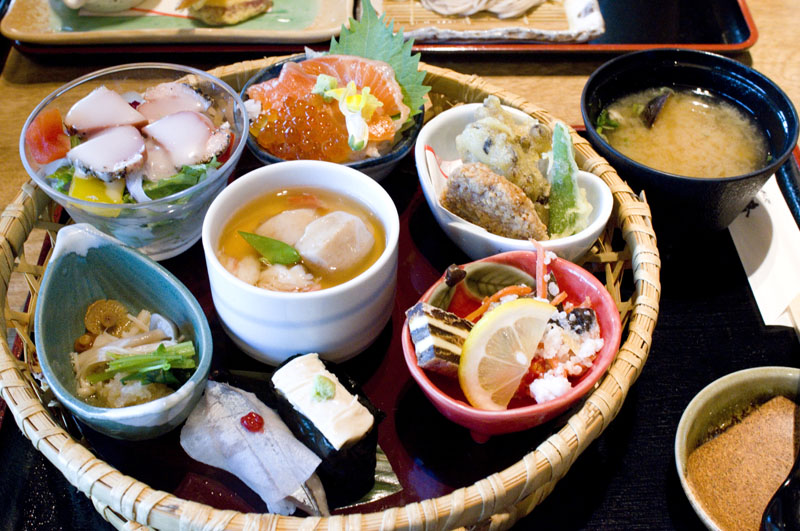 Kushiro

: Open Sundays

: Notable decor
---
This gorgeously appointed izakaya serves Hokkaido cuisine - top-grade charcoal-grilled seafood, meats and vegetables as well as assorted sushi. Pretty much everything we've tried has been excellent, including very tasty grilled lamb and chicken, eggplant, shiitake and bamboo shoots. Also highly recommended dish is the "hassun set" - eight bite-sized seasonal delicacies served on seasonally appropriate pottery (Y1680 per person).

The drinks menu features more than a dozen local Hokkaido sake, and three-part tasting flights (Y1260) are a nice way to try them out. (There's also a shochu tasting flight.) The spacious counter is the best place to sit for 1-3 people; there are also tables overlooking the refurbished Tokyo Station and comfortable private rooms.

Budget around Y6500 for dinner and drinks. Lunch is served until 5pm and starts from Y1280, with fairly luxurious set menus in the Y2000-2500 range.
Marunouchi
Chiyoda-ku, Marunouchi 2-7-2, JP Tower Kitte 6F.
Location on Google Maps
Tokyo Beyond Sushi - the guidebook
Explore the hidden side of Tokyo dining
Charcoal-grilled pork on skewers, udon noodles in curry-flavored soup, octopus dumplings, deep-fried beef cutlet -- there's a whole world of exciting food in Tokyo that food-loving visitors often miss out on.

This book will introduce you to more than twenty of Japan's favorite specialty foods that are less well known abroad, along with a guide to the best places in Tokyo to try them and expert tips on what to order. From Bento.com.
---