Hakata Mangetsu
Ebisu: Yakitori
Hakata Mangetsu (Ebisu: Yakitori)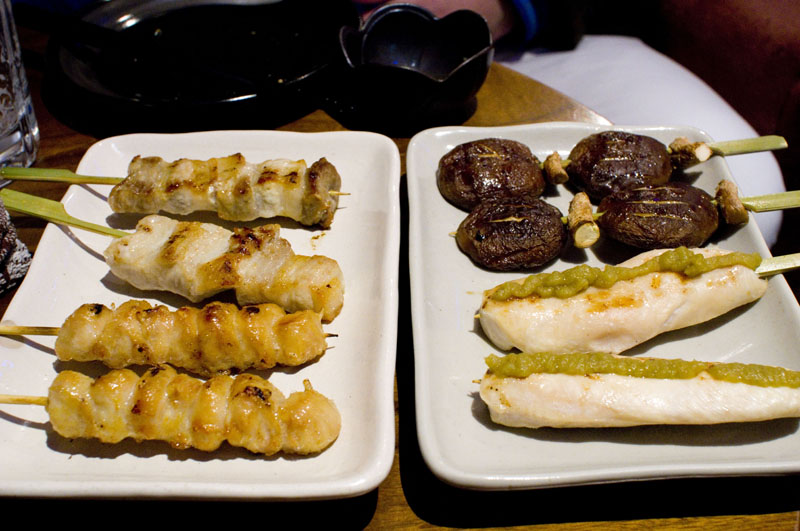 Hakata Mangetsu
Open 5-11:30pm (Fri, Sat -5am) daily.

: Open Sundays
---
A lively basement izakaya, Hakata Mangetsu has a charming style all its own: mismatched sofas and chairs that look like they've put in years of service; an infectiously bouncy eighties-pop soundtrack; and laid-back but friendly service. Plus prices that are hard to believe in such a prime location - yakitori from Y46 per skewer, Suntory Malt's beer at Y208 a glass, and two-hour open-bar plans for just Y780 between midnight and 5am.

The food is fairly decent and good value for money, with some nice bargain surprises like the very good cabbage with spicy miso dip (Y280). In addition to yakitori there's a selection of filling nabe stews, starting at Y924 per person, sashimi, and other izakaya standards. The grilled pork is one of our favorites here, and the chicken breast with wasabi is consistently good.

Drinks include fruit liqueurs, Korean makkoli, sake, shochu, wine and cocktails. Budget around Y2200 for ample food and drink.
Ebisu
Shibuya-ku, Ebisu 1-8-14, Daikoku Bldg B1F.
Location on Google Maps
Browse:
Tokyo Beyond Sushi - the guidebook
Explore the hidden side of Tokyo dining
Charcoal-grilled pork on skewers, udon noodles in curry-flavored soup, octopus dumplings, deep-fried beef cutlet -- there's a whole world of exciting food in Tokyo that food-loving visitors often miss out on.

This book will introduce you to more than twenty of Japan's favorite specialty foods that are less well known abroad, along with a guide to the best places in Tokyo to try them and expert tips on what to order. From Bento.com.
---