Tokyo Family Restaurant
Shibuya: Cafe
Tokyo Family Restaurant (Shibuya: Cafe)
Tokyo Family Restaurant
Open noon-4, 6-11pm (LO; Sat 6-11pm). Closed Sundays.
---
TFR presents an eclectic menu of ethnic cuisines from around the world, including tagines, couscous and other Middle Eastern dishes. Monday through Thursday evenings an every-changing roster of cuisines is showcased in the Y1400 special dinner plate. Lunch covers a similar range of styles, and averages around Y1000 with coffee or tea.

There's also a big selection of "world wines" (Tunisia, Israel and Turkey are represented) and world beers. The space itself has a comfortably gritty post-industrial-chic look to it - lots of painted concrete and mismatched furnishings. Free WiFi access is provided if you want to check your email - ask for the password.

The space is often booked for parties Friday and Saturday evenings, so be sure to call ahead. Budget around Y3000 at dinnertime. No lunch on Saturdays.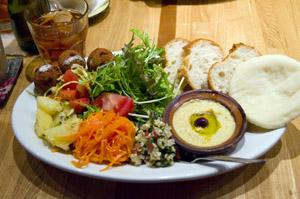 Shibuya
Shibuya-ku, Higashi 1-3-1, Kaminito 20, 3F.
渋谷
東京都渋谷区東1-3-1 カミニート20 3F
Location on Google Maps