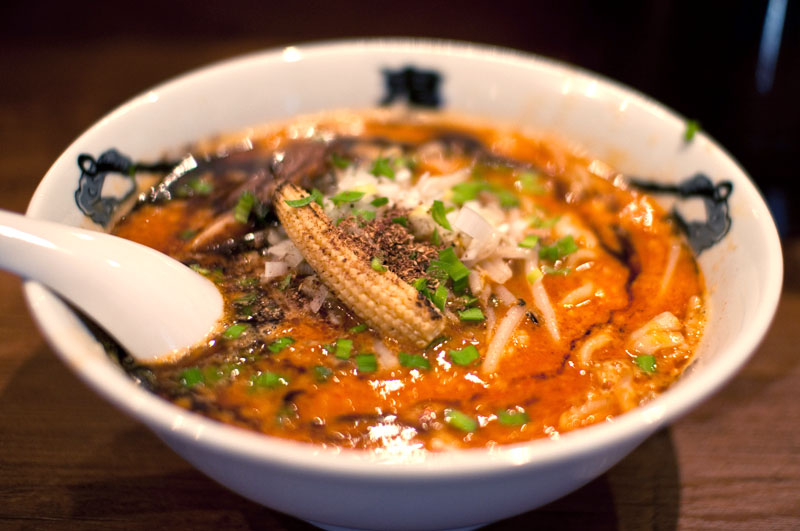 Kikanbou
Open 11am-4, 5:30-9pm. Closed Sundays.
: No smoking
---
You'll find spicy ramen on many shop's menus. This usually means they take their normal bowl, throw in some chili peppers, and call it a day. Many of these bowls are just hot, with very little in terms of complexity. Only a few shops really focus on balancing spice with other flavors to create an amazing bowl of ramen. Kikanbo goes beyond the call of duty with their spicy miso ramen.

The bowl of karashibi ramen (Y800) comes with a choice: how much hot spice, and how much numbing spice. The shop's hot spice should be approached with caution. Made with a blend of spices from around the world, the regular level is probably the best to start with. Higher levels should only be attempted by true spice fans. Kikanbo is heavy on the sansho, Chinese numbing peppercorn. This second spice blend is bitter and numbing. For first timers, when asked about the spice intensity they prefer, a simple futsu futsu - regular for both - is a good idea.

All that spice sits atop a miso soup, blended with house-made sansho oil and a heavy soup. Fans of stewed pork might consider getting the extra pork topping (Y200) for a large slab of stewed pork belly that melts into the bowl.
by Brian MacDuckston
Kanda
Chiyoda-ku, Kajicho 2-10-10.
Location on Google Maps
Browse:
Tokyo Beyond Sushi - the guidebook
Explore the hidden side of Tokyo dining
Charcoal-grilled pork on skewers, udon noodles in curry-flavored soup, octopus dumplings, deep-fried beef cutlet -- there's a whole world of exciting food in Tokyo that food-loving visitors often miss out on.

This book will introduce you to more than twenty of Japan's favorite specialty foods that are less well known abroad, along with a guide to the best places in Tokyo to try them and expert tips on what to order. From Bento.com.
---