Bakuro
Open 5-11:30pm. Closed Sundays.
---
If you're not well acquainted with the subtleties of horsemeat cuisine, Bakuro can be a revelation. The food here is fantastic, showcasing a surprisingly wide range of flavors and styles. The atmosphere is lively and fun, the drinks list is well put together, and prices are very reasonable for this level of quality.

Bakuro occupies a narrow two-story residential building filled with antique furnishings and horse-themed bric-a-brac, which contribute to the charming retro-chic ambience. The upstairs dining area, reached via a steep staircase, is especially cozy, with little nooks, bottle-lined bookshelves and an artfully hidden toilet. Sitting on a quiet side street surrounded by other tiny drinking spots, it attracts a mostly young and well-dressed crowd - even by Ebisu standards.

The horsemeat here comes raw, charcoal-grilled, and served sukiyaki-style. All are worth trying, but the grilled section of the menu really highlights the diverse flavors of the meat. Horse belly is deliciously fatty and reminds us of prime beef, while the richly flavored sausage and bacon seem closer to pork, but with an extra oomph. The tsukune (meatballs) on the other hand are quite heavy and gamey, but definitely worth experiencing. Our grilled platter arrived with a big pile of rocket greens, a much nicer match than the usual cabbage or lettuce that one might expect in a typical izakaya.

The basashi (raw horse) platter makes a good starter, letting you compare several different cuts of meat. Everything we tried was tender and flavorful - in fact Bakuro serves some of the tenderest raw horse we've found in town. We finished off the meal with a filling, and quite economical, nabe pot. The thinly sliced meat is quick-cooked in a light broth, making it closer to sukiyaki than a heavy winter stew. It comes complete with stacks of vegetables, something we had missed in the earlier part of the meal (although we did enjoy an excellent Caesar salad with horse bacon). As with any good nabe dish, you can opt for an order of a filling starch - in this case udon noodles - to soak up the broth at the end.

If we had one complaint it would be that the menu is perhaps a bit too tightly focused - we would have loved some grilled seasonal vegetables to go with our grilled meats. Satsuma-age (Kyushu-style deep-fried fishcake) was one of the few non-equine items on the menu, and it was outstanding - fluffier, moister and less greasy than is typical for this dish. (We noticed that the other branch of this restaurant, in Kanda, seems to have a slightly wider menu which includes fish sashimi.)

Since horse cuisine is a Kyushu specialty, the drinks menu naturally leans towards shochu, however we also found several excellent, unusual sake labels. If you like, you can treat Bakuro as a drinking spot - just order some grilled meat and basashi to accompany your sake or shochu - or add on a pot of nabe at the end to turn it into a full meal. Budget around Y3000-4000 for a substantial dinner with drinks.
by Robb Satterwhite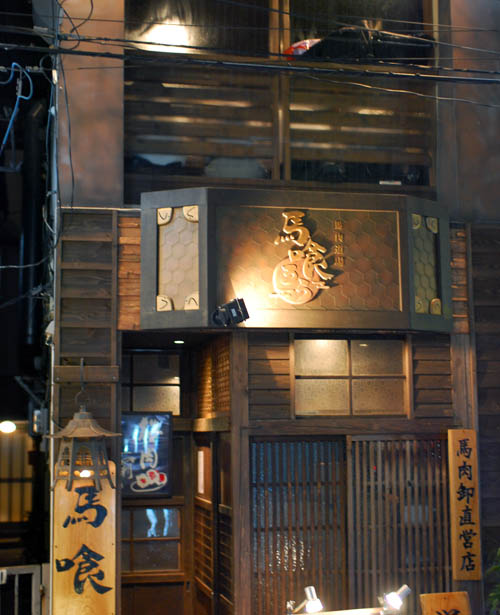 Ebisu
Shibuya-ku, Ebisu-Nishi 1-7-12.
恵比寿
東京都渋谷区恵比寿西1-7-12 ウインエビス
Location on Google Maps
Tokyo Beyond Sushi - the guidebook
Explore the hidden side of Tokyo dining
Charcoal-grilled pork on skewers, udon noodles in curry-flavored soup, octopus dumplings, deep-fried beef cutlet -- there's a whole world of exciting food in Tokyo that food-loving visitors often miss out on.

This book will introduce you to more than twenty of Japan's favorite specialty foods that are less well known abroad, along with a guide to the best places in Tokyo to try them and expert tips on what to order. From Bento.com.
---