Dry Dock
Shimbashi: Beer bar
Dry Dock (Shimbashi: Beer bar)
Dry Dock
Open 5pm-12:30am. Closed Sundays.
: No smoking
---
Perhaps this isn't the narrowest bar in Tokyo, but it's certainly the narrowest bar offering such an impressive class of craft beers, both domestic and imported. Cleverly, the tiny space is fashioned to resemble a yacht, with porthole windows and nautical decor throughout. Three small tables fill the upper deck, while the lower deck is standing-room only, with space for maybe seven or eight along the port-side bar.

If you arrive when it's crowded (i.e. most of the time) you may be asked to stand on the companionway between decks, and if that space is taken you might be directed out the stern to one of the two dockside tables; these look out onto a very noisy road where unfortunately the nautical metaphor breaks down. The tight quarters are worth putting up with for the beers, which include some great US microbrews that you simply won't find anywhere else in town.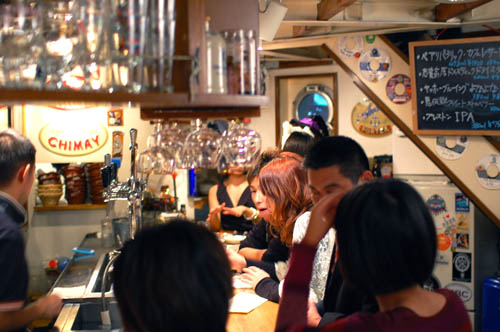 Shimbashi
Minato-ku, Shimbashi 3-25-10.
V‹´
"Œ‹ž"s`‹ĉV‹´3-25-10 JR'‰Ë‰ş
Location on Google Maps
Browse:
Tokyo Beyond Sushi - the guidebook
Explore the hidden side of Tokyo dining
Charcoal-grilled pork on skewers, udon noodles in curry-flavored soup, octopus dumplings, deep-fried beef cutlet -- there's a whole world of exciting food in Tokyo that food-loving visitors often miss out on.

This book will introduce you to more than twenty of Japan's favorite specialty foods that are less well known abroad, along with a guide to the best places in Tokyo to try them and expert tips on what to order. From Bento.com.
---