Bar Guapos
Ebisu: Wine bar
Bar Guapos (Ebisu: Wine bar)
Bar Guapos
Open 5pm-3:30am (LO; 5-11:30pm Sun, Mon). Open every day.

: Open late

: Open Sundays
---
It's easy to appreciate the beauty of Bar Guapos, where Y1500 is enough for a glass of tinto or blanco and one or two tasty tapas. A complimentary dish of grana cheese, scooped directly out of the gigantic wheel on the counter, will give you something to nibble on as your contemplate your next order. There are about fifteen Spanish wines on the drink list, plus a number of Sherries.

Check out the daily specials written on a blackboard at the back of the bar, or stick with the favorites on the regular food menu. Stuffed mushrooms arrive sizzling in their ceramic dish; adorable ham croquettes come topped with a dab of tomato sauce. Burnt-orange walls and flamenco music add to the Iberian flavor, but you don't have to habla Espanol to get a drink: the affable bartender speaks very fluent English. There are a few seats, but it's mostly standing.
by Melinda Joe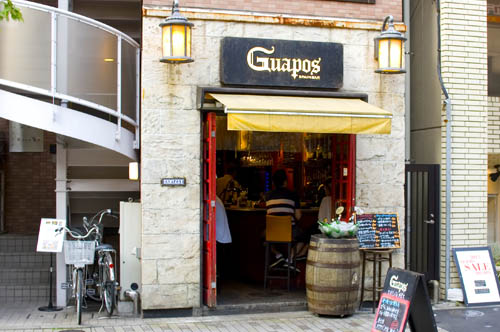 Ebisu
Shibuya-ku, Ebisu-Nishi 1-3-8.
Location on Google Maps
Browse:
Tokyo Beyond Sushi - the guidebook
Explore the hidden side of Tokyo dining
Charcoal-grilled pork on skewers, udon noodles in curry-flavored soup, octopus dumplings, deep-fried beef cutlet -- there's a whole world of exciting food in Tokyo that food-loving visitors often miss out on.

This book will introduce you to more than twenty of Japan's favorite specialty foods that are less well known abroad, along with a guide to the best places in Tokyo to try them and expert tips on what to order. From Bento.com.
---