Galali
Sendagaya: Izakaya
Galali (Sendagaya: Izakaya)
Galali
Open 11:30am-2, 5-11pm (LO) daily.

: Open Sundays
---
Lots of pubs and restaurants serve shochu these days, but Galali specializes in the variety made from sugarcane (kokuto shochu) which may remind you of good rum. The food menu is well matched to the drink - strong assertive flavors, with lots of gourmet miso in all its colors and variations.

In fact shochu and miso are also an important interior design element here - decorative shochu bottles line an recessed shelf running the length of the upstairs dining area, while big miso pots decorate the downstairs level.

The newly built but charmingly rustic building is long and narrow, with one row of tables upstairs and a big, comfortable counter on the ground floor. Heavy wooden beams add a feeling of solidity to the space, and a grill-like arrangement of wooden slats along the front glass wall provides privacy from the street while maintaining a visual connection with the outside.

The otoshi that arrives when you sit down is a good introduction to the sensibility at work at Galali - it's simply a bowl of very fresh cabbage slices accompanied by three different kinds of miso. Light-colored miso is served on a dark plate and vice versa. There are many other miso-oriented dishes, plus a fair selection of tempura dishes. These change with the season, but some of our favorite summer ingredients include the crabmeat and corn, prepared kakiage style, and the tangy myoga. The natural oiliness of the tempura is nicely offset by the crisp flavors of the shochu.

Also recommended are the seasonal fish and seafood specials, including the sashimi platter of the day. Probably our favorite dish is the fanastic Berkshire pork, sauteed with bean sprouts, greens and a surprisingly hefty dose of garlic. If you want a break from shochu you'll find three types of sake (all quite good) and four kinds of plum wine. Budget around Y3000-4000 at dinnertime, including drinks.
by Robb Satterwhite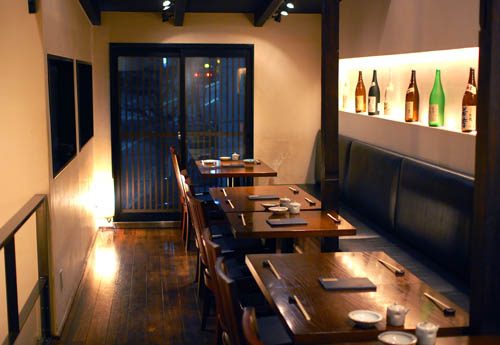 Sendagaya
Shibuya-ku, Sendagaya 2-6-4.
Location on Google Maps
Browse:
Tokyo Beyond Sushi - the guidebook
Explore the hidden side of Tokyo dining
Charcoal-grilled pork on skewers, udon noodles in curry-flavored soup, octopus dumplings, deep-fried beef cutlet -- there's a whole world of exciting food in Tokyo that food-loving visitors often miss out on.

This book will introduce you to more than twenty of Japan's favorite specialty foods that are less well known abroad, along with a guide to the best places in Tokyo to try them and expert tips on what to order. From Bento.com.
---