Allt Gott
Kichijoji: Swedish
Allt Gott (Kichijoji: Swedish)
Allt Gott
Open 11:30am-1:30, 6-9:30pm (LO). Closed Mondays.

: Open Sundays
---
If you're looking for the best reindeer steak in Tokyo, your search is over. Allt Gott in Kichijoji serves up high-level Swedish cuisine, made from traditional ingredients but prepared with a light, modern cooking style. And thanks to its off-the-beaten-track location, the prices here are much lower than you might expect for food of this quality.

The talented young chef here, Yaguchi-san, manned the kitchen in the popular Gamlastan restaurant on the south side of Kichijoji station, and when Gamlastan's owner picked up and moved to Nagano-ken in 2003 Chef Yaguchi opened his own place here in the back streets behind Tokyu department store. The second-floor dining room is pleasantly spacious and airy, with unpretentious decor. Sixties easy-listening music and light jazz play in the background. Service is prompt and efficient.

The food menu covers a range of Scandinavian standards, with a special emphasis on seafood. The cold appetizers start with boiled ama-ebi (Northern shrimp), seasoned very simply with dill and lemon to better bring out the fresh flavors of the shrimp itself. The cold avocado salad is much more elaborate - basically a Scandinavian guacamole w/ diced shrimp and plenty of herbs, served in a hollowed-out avocado shell.

It's hard to resist good Swedish meatballs (from the warm appetizers section), and the ones here are very tasty. Again, they're nicely herb-infused and served with a thicky gravy full of mushrooms, plus a small dish of tangy lingonberry jam for contrast. They're a good buildup to the reindeer steaks - two fillet steaks (just large enough to share between two people) served with a rich dark-cherry sauce and intensely creamy mashed potatoes, with just a sliver of toasted lotus root topping things off. The meat was very tender and pleasantly gamey, beautifully grilled with lightly charred edges and a juicy center.

Other a la carte choices include venison, chicken, lots of fish (including smoked salmon), and Scandinavian cheeses. If you hate making choices, prix-fixe dinners start at Y3500, with lunches running from Y1500-3500. There's a big dessert tray, and the Allt Gott-style chocolate cake is highly recommended. It's moist but not overly rich, enlivened with a splash of vodka and topped by a layer of good solid chocolate, and served with whipped cream and cherries on the side.

The wine list is small but serviceable and attractively priced (Y3000-6000); we found a nice solid Rioja (Y3600) that went well with just about everything on the menu. For a real Scandinavian end to the meal, there's vodka and a choice of three different aquavits (the Aalborg is our favorite), all served nice and frosty, straight from the freezer.
by Robb Satterwhite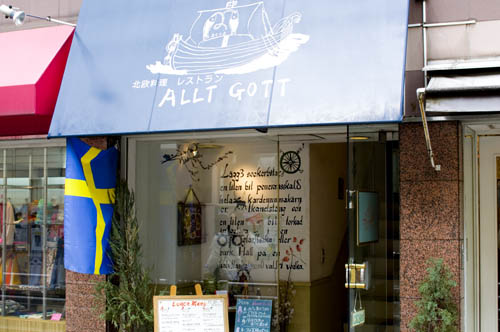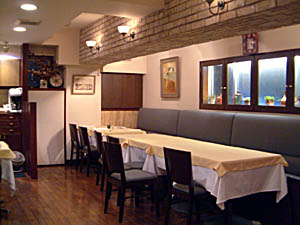 Kichijoji
Musashino-shi, Kichijoji Honcho 2-28-1, Shibata Bldg. 2F.
吉祥寺
東京都三鷹市吉祥寺本町2-28-1 シバタビル2F
Location on Google Maps
Browse:
Tokyo Beyond Sushi - the guidebook
Explore the hidden side of Tokyo dining
Charcoal-grilled pork on skewers, udon noodles in curry-flavored soup, octopus dumplings, deep-fried beef cutlet -- there's a whole world of exciting food in Tokyo that food-loving visitors often miss out on.

This book will introduce you to more than twenty of Japan's favorite specialty foods that are less well known abroad, along with a guide to the best places in Tokyo to try them and expert tips on what to order. From Bento.com.
---