Wattaribozu
Gotanda: Japanese regional
Wattaribozu (Gotanda: Japanese regional)
Wattaribozu
Open 11:30am-2, 5pm-1am daily.

: Open Sundays
---
Akita Prefecture is famous for its excellent sake, but its regional cuisine isn't as widely known. Wattaribozu, a cozy little basement izakaya near Gotanda Station, is a great place to explore both food and drink from the region. Some highlights include fish and seafood flown in fresh from the Sea of Japan coast, chicken dishes made with Hina-dori, an heirloom breed that originated in Akita, and wintertime stews like kiritampo nabe, made with grilled pounded rice on skewers.

As you might expect, the drinks list here focuses heavily on Akita sake, with a number of labels from small craft breweries that are otherwise hard to find in Tokyo. Thirteen sake by the glass are listed, most in the Y580-850 range. You can also order by the flask for the table, and after our first couple of rounds we turned to the staff for recommendations, and were rewarded with some very fresh, limited-edition seasonal bottles that weren't even on the menu. If you're adventurous you might also want to check out the umeshu (plum wine) selection. There are at least twenty varieties, including unusual flavors like banana and yuzu, both of which were surprisingly good

One main section of the food menu is devoted to Hinai-dori, a native-Japanese breed of chicken with striking red-and-black plumage. It's represented here in the form of charcoal-grilled yakitori skewers, deep-fried chicken, excellent savory egg custard, and oyako-donburi, the classic meal of chicken and egg over rice. You'll also find some excellent grilled pork dishes, including tasty, thick bacon slabs and fantastic grilled pork belly with toasted garlic chips. Unexpectedly, Wattaribozu also serves some of the best basashi (horse sashimi) we've ever come across Tokyo.

Akita is largely mountainous and much of its vegetable consumption is in the form of pickles. The oshinko moriawase (assorted pickle platter) here is a good introduction, with several varieties we had never seen or heard of before. Among our favorites was the iburi-gakko (smoked pickled daikon and carrots), which went quite well with the local sake. We also had some interesting and unusual mountain-vegetable dishes, very good bamboo shoots, and outstanding grilled shiitake mushrooms.

One challenge here is simply understanding the menu - many dishes had unfamiliar names, and despite extensive consultations with the waitstaff we were still in for a few surprises. Pretty much everything we tried was quite good though; even a rather plebian dish like yakisoba was beautifully prepared, with special Akita-style noodles and other top-grade ingredients.

Budget around Y3500 at dinnertime for food and drink; all-you-can-drink plans are also available for parties. No lunch on weekends; open until 3am on Friday nights.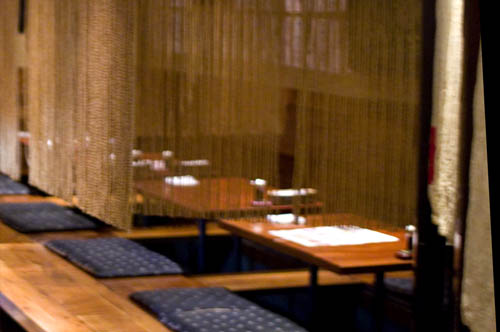 Gotanda
Shinagawa-ku, Nishi-Gotanda 1-7-1, Libio Gotanda Pragma G Tower B1F.
五反田
東京都品川区西五反田1-7-1 リビオ五反田プラグマGタワーB1
Location on Google Maps
Tokyo Beyond Sushi - the guidebook
Explore the hidden side of Tokyo dining
Charcoal-grilled pork on skewers, udon noodles in curry-flavored soup, octopus dumplings, deep-fried beef cutlet -- there's a whole world of exciting food in Tokyo that food-loving visitors often miss out on.

This book will introduce you to more than twenty of Japan's favorite specialty foods that are less well known abroad, along with a guide to the best places in Tokyo to try them and expert tips on what to order. From Bento.com.
---