Vegetable carving - carrots
---
Ocean Wave Curl
Abalone Steak with Foie Gras
This tender abalone steak rests on a bed of asparagus and potato. Adding a glazed carrot garnish brightens this inherently dark-toned dish, and the unexpected splash of color raises the level of the diner's anticipation.
Twists and curls offer a wide range of color and culinary opportunities, particularly if you take advantage of vegetables such as cucumber, daikon, and carrots (this last, in all the available hues - yellow, orange, red, and purple).
How effective is this simple garnish? Cover the Ocean Wave and you'll immediately understand the simple appeal of this culinary flourish, which requires minimal effort but enhances the dining experience immeasurably.
| | |
| --- | --- |
| 1. With a knife or peeler slice off a 1-inch-wide (2.5cm) strip of carrot. Trim end by making a diagonal cut. | 2. Make 4 slits in the carrot, each less than 1/8 inch (2mm) apart. Do not cut to the edges, but leave about 1/6 inch (4mm) at both ends uncut. |
| 3. Soak in water for 1 to 2 minutes to soften. | 4. Wrap around a stick to curl. |
| 5. The finished garnish. | |
The abalone steak was grilled lightly in oil and seasoned with salt and pepper to taste. It rests on a bed of asparagus and potato and is served in a Japanese Wine Sauce made with pan juices and 1 part white wine, 1 part sake, and 1 part soy sauce.

Mix the wine and sake in a fresh saucepan, burn off the alcohol over a low heat, then add the soy sauce, juices, salt, and pepper (or sugar) to taste.
Tube Curl
Asparagus and Potato Appetizer
The Tube Curl brings this dish to life with a simple, elegant flourish, lending color and movement to what would have otherwise been a linear, bland-looking presentation. Try sprinkling Tube Curls over a favorite salad or meat dish. Depending on the dish, consider using cucumber, a red or yellow carrot, or a firm vegetable of your choice.
| | |
| --- | --- |
| 1. Cut a thin 1 1/2-inch (6cm) strip from a carrot with a peeler or knife. Cut in half lengthwise and trim ends. Soak in water for 1 to 2 minutes to soften. | 2. One at a time, roll the strips around a thin stick at a slight angle, shifting the carrot so the edges are not aligned with the previous layer of carrot as you roll. |
| 3. The finished shape. | |
The appetizer in this boat-shaped serving vessel relies on two crisp, parboiled vegetables. While the garnish supplies the visual spice, the dab of mustard and jelly from the aloe-vera plant serve as condiments.

Variations on this appetizer would include substituting lightly boiled turnip or daikon for the potato, each lightly seasoned to taste with salt, pepper, and soy sauce. Season the carrot as desired, or glaze.
Source Notes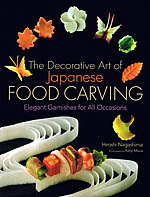 Reprinted with permission from the book:
The Decorative Art of Japanese Food Carving: Elegant Garnishes for All Occasions
Kodansha International
Japanese cuisine is renowned for the beauty of its presentation. Among the key elements in this presentation style are mukimono -- the decorative garnishes and carvings that add the final flourish to a dish.
In The Decorative Art of Japanese Food Carving, internationally acclaimed chef Hiroshi Nagashima offers 60 edible garnishes and food carvings for home, party or professional use. Some are designed to be set on top of the food. Others are fashioned to hold the food -- and sometimes, they simply are the food.
Each is introduced in full color, with easy-to-follow, step-by-step instructions, sample food arrangements, further ideas and secret, insider tips for successful presentation. Most are simple enough for the amateur chef to master, although a few are quite challenging and require much practice.
The Decorative Art of Japanese Food Carving is more than a practical handbook, however. It is also an inspiration book, filled with creative suggestions and inventive ideas to enhance and transform the way we cook.
ISBN4-7700-3087-8
More articles
---
---
---
---
© Copyright Lobster Enterprises
© Copyright Lobster Enterprises
© Copyright Lobster Enterprises