Usagito Cafe
Nagoya: Rabbit cafe
Usagito Cafe (Nagoya: Rabbit cafe)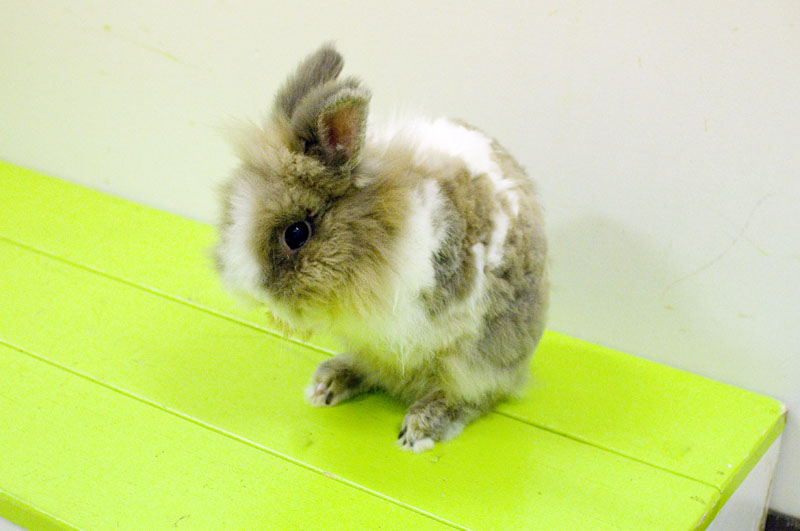 Usagito Cafe
Open 1-7:50pm (Sat, Sun 11am-7:50). Closed Tuesdays.

: Open Sundays
---
While the cafe component of many rabbit cafes can be rudimentary at best, Usagito devotes quite a bit of space to their cafe area, and offers substantial fare like fettucine, cheese penne and curry rice well as the usual coffee, tea and dessert. Admission includes a cup of coffee or other soft drink, which you can have either before or after you play with the rabbits, and there's an English menu if you want to order more.

Cover charge for the cafe's "visitor plan" is Y1660 with no time limit, although the fine print mentions that the unlimited time might be limited to one hour when they're very crowded. Still though, on an uncrowded weekday it was nice to relax over coffee without checking the clock, as our eyes gradually became acclimated to the cafe's bright pink decor.

The rabbit zone is much more austere, with three brightly lit playrooms, although one was closed to let the rabbits take a break, and one was being cleaned when we visited. Change into slippers when you enter, and you will be given a blanket so that rabbits can sit on your lap. There are usually three or four rabbits running loose, and you can feed them if you like - a dish of rabbit snacks is Y200, and it resembles potpourri rather than the usual pellets or raw vegetables.

See more photos and details at Animal Cafes.com.
Nagoya
Naka-ku, Nagoya, Osu 4-1-71, Yabacho Chukoma Bldg 3F.
名古屋
愛知県名古屋市中区大須4-1-71 矢場町中駒ビル 3F
Location on Google Maps
Browse:
Tokyo Beyond Sushi - the guidebook
Explore the hidden side of Tokyo dining
Charcoal-grilled pork on skewers, udon noodles in curry-flavored soup, octopus dumplings, deep-fried beef cutlet -- there's a whole world of exciting food in Tokyo that food-loving visitors often miss out on.

This book will introduce you to more than twenty of Japan's favorite specialty foods that are less well known abroad, along with a guide to the best places in Tokyo to try them and expert tips on what to order. From Bento.com.
---