Gotsubo
Yokohama Sta.: Yakitori
Gotsubo (Yokohama Sta.: Yakitori)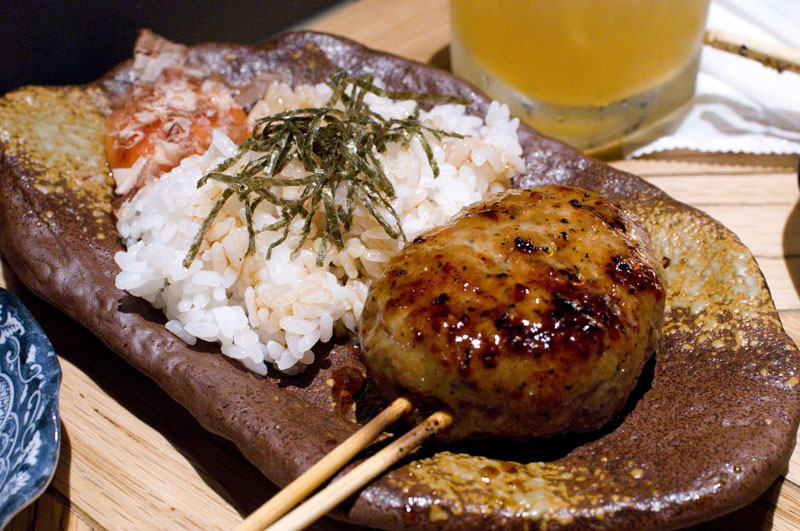 Gotsubo
Open 5-11pm (LO; Sat, Sun noon-11) daily.

: Open Sundays
: No smoking
---
Charcoal-grilled yakitori skewers are the mainstay of the kitchen at this mini-izakaya, but there's much more to explore on the quirky menu, from cheese-covered grilled Spam to natto-smothered fried tofu. Standard yakitori fare is quite reliable and often inspired, with simple items like bonjiri (chicken tail), chicken tsukune and deep-fried garlic cloves well executed and attractively presented.

A straightforward dish like morokyu (moromi miso with raw cucumber) is perked up with the addition of a few dollops of plain mayonnaise, balancing out the saltiness and rough texture of the fermented moromi. Another unexpected discovery is the shop's very appealing original-recipe sesame condiment, served in countertop ceramic jars. It's an umami-rich blend of black sesame, black pepper, olive oil, garlic and parmesan cheese, and it's almost worth a visit here just to try it out.

Drinks include fruit liqueurs like umeshu and anzushu (apricot liqueur) as well as the usual beer, or you can sample premium one-cup sake servings from a dozen or so craft-sake labels. Most seating is at the counter, although there are a few booths for small groups. Budget around Y2,000-2,500 for food and drink.

Gotsubo is part of the yokocho drinking alleyway on the ground floor of the Aso Building, and a visit here can easily be combined with a bit of bar-hopping at other spots in the yokocho. The building (Aso-Biru in Japanese) is located at the top of the stairs at the southeast exit of Yokohama Station. If you're coming from the east side of the station, take the passageway on the right-hand side of the post office.
Yokohama Sta.
Nishi-ku, Yokohama, Takashima 2-14-9, Aso Bldg 1F Post Road.
Location on Google Maps
Browse:
Tokyo Beyond Sushi - the guidebook
Explore the hidden side of Tokyo dining
Charcoal-grilled pork on skewers, udon noodles in curry-flavored soup, octopus dumplings, deep-fried beef cutlet -- there's a whole world of exciting food in Tokyo that food-loving visitors often miss out on.

This book will introduce you to more than twenty of Japan's favorite specialty foods that are less well known abroad, along with a guide to the best places in Tokyo to try them and expert tips on what to order. From Bento.com.
---