Hasegawa
Kagurazaka: Yoshoku
Hasegawa (Kagurazaka: Yoshoku)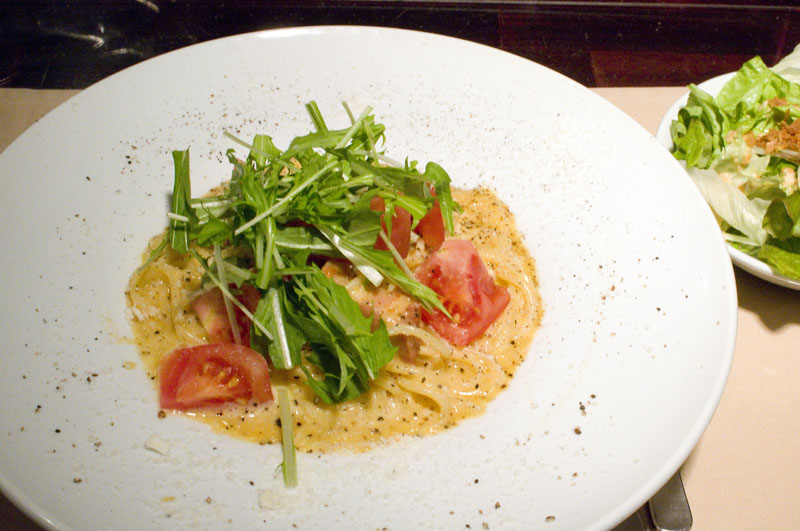 Hasegawa
Open 11:30am-1:30pm (LO). Closed Mondays, Tuesdays.

: Open Sundays
---
Spaghetti Carbonara is the only dish served at this very specialized lunchtime restaurant, and they do an excellent job of it. It's perfectly prepared and attractively presented, with a scrumptious cheesy sauce and al dente noodles.

In addition to their faultless classic-recipe carbonara, they offer three dailiy variations to keep things from getting monotonous. These are mostly just extra ingredients like shrimp, mentaiko, or fresh tomatoes, although occasionally they'll have some adventurous fusion-y options like Korean-style carbonara. All pastas come with a side salad, and you can add on coffee and dessert if you like.

The dining room is pleasantly appointed, and at night it turns into a garlic-focused Italian restaurant under different management. Pasta plus salad will run you Y1,190-1,280 depending on the extra ingredients. Last order is at 1:30pm.
Kagurazaka
Shinjuku-ku, Kagurazaka 3-6.
Location on Google Maps
Browse:
Tokyo Beyond Sushi - the guidebook
Explore the hidden side of Tokyo dining
Charcoal-grilled pork on skewers, udon noodles in curry-flavored soup, octopus dumplings, deep-fried beef cutlet -- there's a whole world of exciting food in Tokyo that food-loving visitors often miss out on.

This book will introduce you to more than twenty of Japan's favorite specialty foods that are less well known abroad, along with a guide to the best places in Tokyo to try them and expert tips on what to order. From Bento.com.
---