T-Cat
Yokohama Bashamichi: Cat cafe
T-Cat (Yokohama Bashamichi: Cat cafe)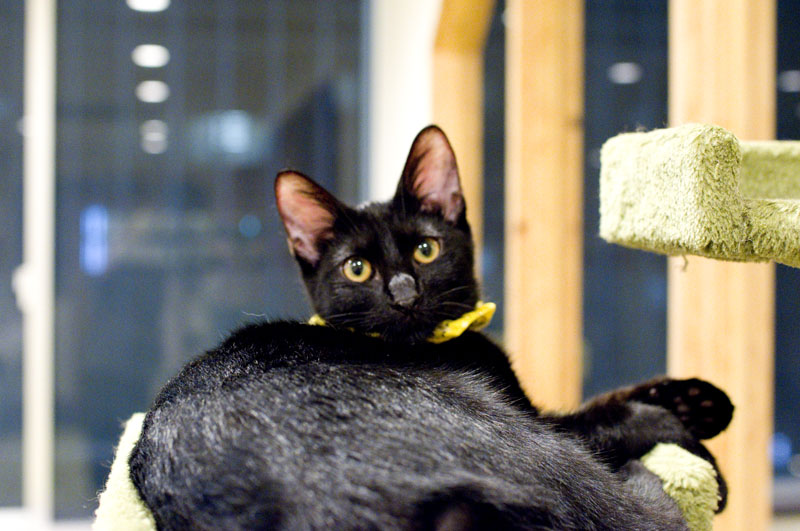 T-Cat
Open 11am-8pm. Closed Mondays.

: Open Sundays
---
Open since February 2017, T-Cat is a friendly rescue-cat cafe with around fifteen resident cats, give or take. There were a lot of younger cats when we visited, and they were especially playful and athletic when the staff demonstrated the use of various fishing-pole cat toys. There are also a number of black cats here, wearing bandanas of different colors so that they're easier to tell apart.

Unlike most cat cafes, the playroom here is separate from the cafe area, so you can enjoy your coffee or tea without worrying about spillage. Drinks are charged separately from admission, and are optional. Also unlike most places, you can order beer or other alcoholic beverages, from 5pm. You can even bring your own food (for yourself, not for the cats).

See more photos and details at Animal Cafes.com.
Yokohama Bashamichi
Naka-ku, Yokohama, Bentendori 2-29, Morito Bldg 401.
横浜馬車道
横浜市中区弁天通2-29 森藤ビル401
Location on Google Maps
Browse:
Tokyo Beyond Sushi - the guidebook
Explore the hidden side of Tokyo dining
Charcoal-grilled pork on skewers, udon noodles in curry-flavored soup, octopus dumplings, deep-fried beef cutlet -- there's a whole world of exciting food in Tokyo that food-loving visitors often miss out on.

This book will introduce you to more than twenty of Japan's favorite specialty foods that are less well known abroad, along with a guide to the best places in Tokyo to try them and expert tips on what to order. From Bento.com.
---