Shimbashi Yakiton
Shimbashi: Yakiton
Shimbashi Yakiton (Shimbashi: Yakiton)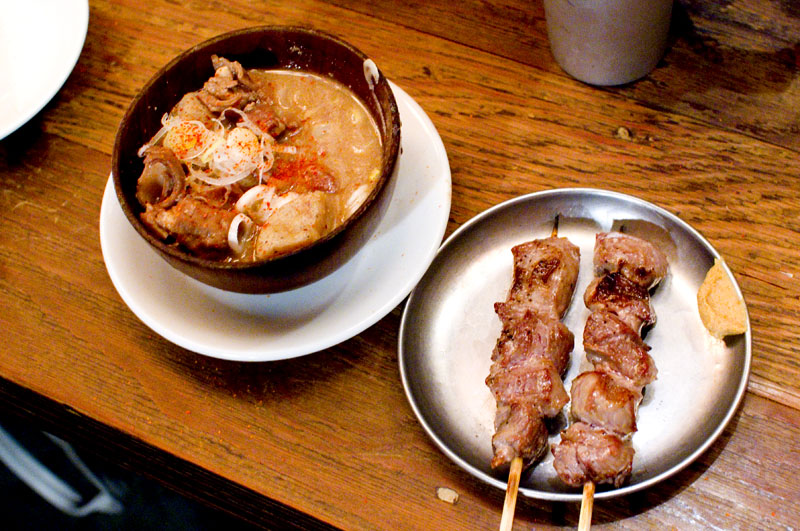 Shimbashi Yakiton
Open 4-11pm (LO). Closed Sundays.
---
This after-work standing bar serves up excellent charcoal-grilled skewers of pork and chicken plus cheap drinks in an extremely casual setting. The ceiling is festooned with paper lanterns advertising beer and liquor brands.

Patrons - mostly Shimbashi office workers stopping in for a drink on the way home - can stand at upturned barrels, communal tables or a long counter in front of the grill. There's also some outdoor standing room, which may be somewhat less smoky depending on your luck.

As the shop name indicates, the main specialty here is yakiton - grilled pork on skewers, some fourteen varieties in all starting at around Y100. The Japanese menu has a neatly illustrated chart explaining where the various cuts of meat come from. Some favorites were the charcoal-infused tontoro (neck and shoulder meat) and harami (tender diaphram meat), plus very nice tebasaki (chicken wings) from the smaller yakitori side of the menu.

For starters, big crisp chunks of cucumber in salt will fill your vegetable quota for the day. The smooth and rich pork organ-meat stew (motsu-nikomi) has a miso base, but a subtle one - the overall flavor is more porky than miso-heavy. There are six different sake - three cold and three served at room temperature, although only the cold ones are listed on the English menu.

Budget around Y1200-2500 for food and drink, depending on how long you stay. There are several other branches scattered throughout Tokyo, but this main branch seems to have the best reputation for food.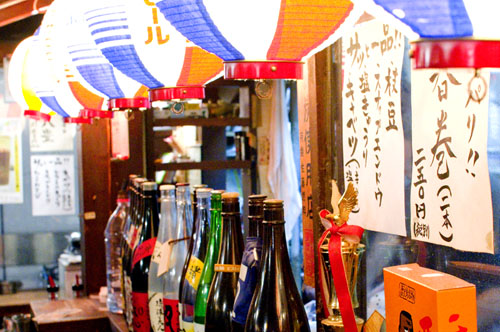 Shimbashi
Minato-ku, Shimbashi 1-14-8.
Location on Google Maps
Browse:
Tokyo Beyond Sushi - the guidebook
Explore the hidden side of Tokyo dining
Charcoal-grilled pork on skewers, udon noodles in curry-flavored soup, octopus dumplings, deep-fried beef cutlet -- there's a whole world of exciting food in Tokyo that food-loving visitors often miss out on.

This book will introduce you to more than twenty of Japan's favorite specialty foods that are less well known abroad, along with a guide to the best places in Tokyo to try them and expert tips on what to order. From Bento.com.
---