Nikuzushi
Iidabashi: Japanese
Nikuzushi (Iidabashi: Japanese)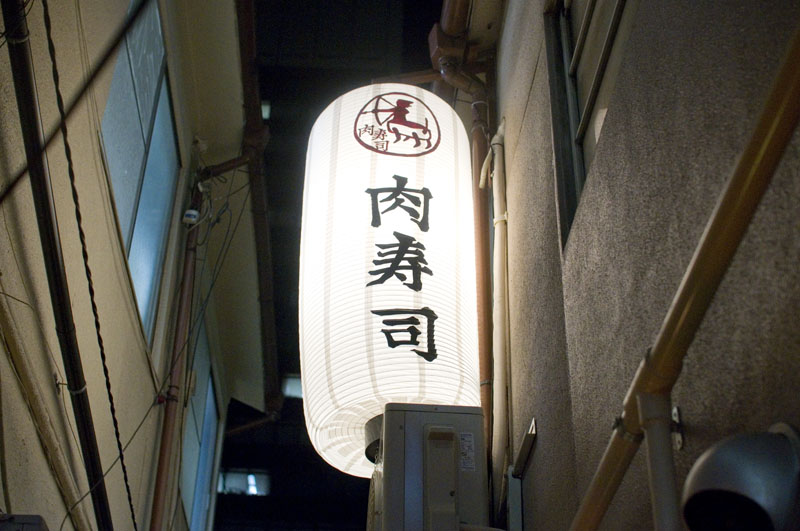 Nikuzushi
Open 5pm-5am (Sun 4-12) daily.

: Open Sundays
---
If you don't mind the informal setting, this unpretentious back-alley izakaya is a great place to explore the mysterious delights of horsemeat sushi and other raw-meat delicacies. The ten-piece Kagurazaka sushi platter (Y3200) is a good starting point - it includes a few different cuts of horse along with lightly seared chicken and raw wagyu beef, all prepared as sushi.

If you want to supplement with individual pieces, the a la carte menu offers beef, chicken and lamb options as well as several cuts of horse. We can whole-heartedly recommend the rich "foie gras" sushi. To balance your diet and complement the meaty fare, you can choose from a selection of fresh vegetable dishes - ripe avocado sashimi (with pungent wasabi), raw turnip chunks and crisp cucumbers served with miso paste.

Drinks are reasonably priced and include a few premium sake brands as well as beer and shochu. Nikuzushi is located in the middle of an ancient-looking alleyway full of tiny drinking spots. There are around six counter seats on the ground floor and three small tables upstairs, reached via a steep and narrow stairway. Although it may seem like a casual, walk-in kind of spot, reservations are recommended if you're visiting at dinnertime.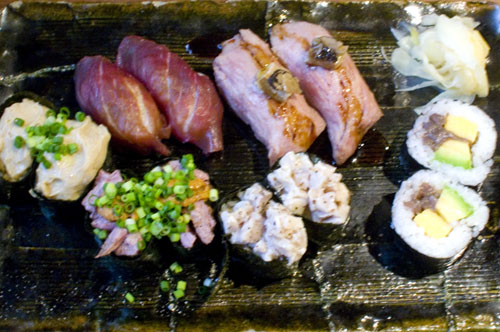 Iidabashi
Shinjuku-ku, Kagurazaka 1-14, Michisaku Yokocho.
Location on Google Maps
Browse:
Tokyo Beyond Sushi - the guidebook
Explore the hidden side of Tokyo dining
Charcoal-grilled pork on skewers, udon noodles in curry-flavored soup, octopus dumplings, deep-fried beef cutlet -- there's a whole world of exciting food in Tokyo that food-loving visitors often miss out on.

This book will introduce you to more than twenty of Japan's favorite specialty foods that are less well known abroad, along with a guide to the best places in Tokyo to try them and expert tips on what to order. From Bento.com.
---