Rocco's

: Open Sundays
---
Great New York-style pizza, by the slice or by the pie, to stay or to go. Slices are substantial in size - two slices with a side salad will make a decent meal - and large pies are a full 18 inches in diameter. They come with an extensive selection of toppings, which you can customize to your heart's content (we highly recommend the Italian sausage).

You can also choose from several kinds of calzone and stromboli - the Calzone Supreme (Y950), for example, is stuffed with ricotta, mozzarella, spinach, onions, garlic, red peppers and capicola. Side dishes include Buffalo wings and homemade chili, and there's regular or chocolate cheesecake for dessert. Beer and wine are Y500/glass, as are cocktails, and shots of various liquors are just Y300 if you're so inclined.

The classic pizza-shop interior features red-checked tablecloths, upon which you'll find shakers of red-pepper flakes and oregano. A large-screen TV shows NBA and MLB games, and there are a few outdoor tables out front. Slices start at Y375 (most are Y425 or Y450), and pies start at Y2400.

Hours are Tuesday-Friday 11am-2pm, 5-9pm; Saturdays 11am-9pm; Sundays and holidays 11am-8pm.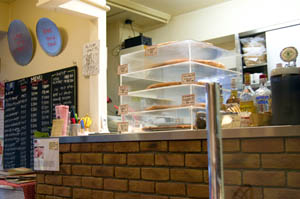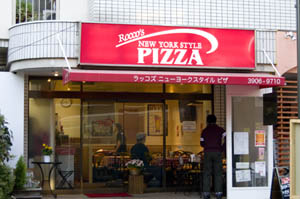 Oji
Kita-ku, Oji-Honcho 1-1-24.
Location on Google Maps
Browse:
Tokyo Beyond Sushi - the guidebook
Explore the hidden side of Tokyo dining
Charcoal-grilled pork on skewers, udon noodles in curry-flavored soup, octopus dumplings, deep-fried beef cutlet -- there's a whole world of exciting food in Tokyo that food-loving visitors often miss out on.

This book will introduce you to more than twenty of Japan's favorite specialty foods that are less well known abroad, along with a guide to the best places in Tokyo to try them and expert tips on what to order. From Bento.com.
---