Tateru Yoshino
Shiodome: French
Tateru Yoshino (Shiodome: French)
Tateru Yoshino
Open 7-10:30am, 11:30-2pm, 6-9pm (LO) daily.

: Open Sundays
: No smoking
---
Stella Maris, chef Yoshino's Michelin-starred restaurant in Paris, earned its stellar reputation based on high-level French cooking (with subtle Japanese influences) and excellent game dishes, so we were eager to try out Monsieur Yoshino's eponymous Tokyo restaurant. We weren't disappointed. The food is artfully prepared and beautifully presented, creative but not overly showy, and built around smartly balanced, top-quality seasonal ingredients. In short, it is some of the most enjoyable French cuisine we've had in a long time.

Located in a boutiquey designer hotel, the restaurant is simple but pleasantly appointed, with the obvious focus of attention being the 25th-floor view of Tokyo Bay and the nearby skyscrapers of Shiodome. At dinnertime, live jazz wafts in from the adjacent lobby lounge, adding some life to the small room. The service is very professional but somewhat formal - we found ourselves speaking in hushed voices when we first sat down, but the atmosphere gradually loosened up as more diners arrived.

A recent meal started with carpaccio of young goat from Kikai Island. We had just enjoyed Okinawan-style raw goat the night before but this was quite a different experience; the meat was tender and very flavorful without being overly gamey, served with a generous assortment of salad greens. The starter of carrot mousse topped with fresh uni turned out to be a pleasant surprise, with the smooth, creamy ingredients balanced by the crunchier textures of an excellent spring vegetable salad. Asparagus risotto with frog's legs (a daily special) was another stand-out appetizer.

Our roast lamb main dish was attractively presented on two side-by-side rectangular plates, one devoted to meat and the other heaped with greens, baby tomatoes and other vegetables served with anchovy sauce - a sort of deconstructed bagna cauda. The lamb was some of the finest-quality meat we've had in Tokyo. Equally impressive was the roast veal with duck foie gras flavored with rosemary. The fish choices we've tried (rockfish, sole) have also been excellent, but the meat dishes here really stand out in terms of intensity of flavor.

We had no complaints about any of the luscious desserts, and the big selection of colorful petit fours served with our coffee was a nice final touch. Dinnertime prix-fixe menus start at Y7875 (Y3675 at lunchtime), or you can opt for a deluxe Y15,750 menu showcasing dishes from the Parisian restaurant. You can supplement any of the menus with a stunning cheese platter (Y1890). The red-heavy wine list is well chosen, strong in Burgundy and Bordeaux wines, although there's not much under Y10,000 per bottle; wine by the glass starts at around Y1300. There are about a dozen wines by the half-bottle.

There's also an adjacent wine bar with less expensive a la carte options and very late hours for this office neighborhood - last order for food is 11:30pm and drinks are served until 1:30am.
by Robb Satterwhite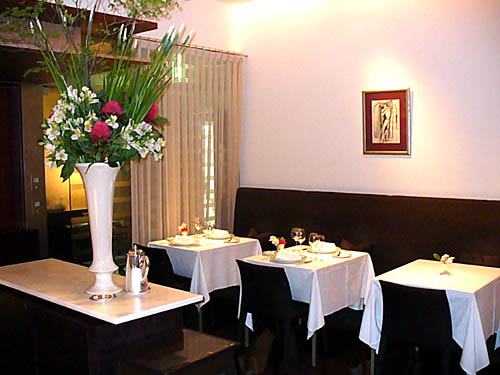 Shiodome
Minato-ku, Higashi-Shimbashi 1-7-1, Park Hotel Tokyo 25F.
汐留
東京都港区東新橋1-7-1 パークホテル東京25F
Location on Google Maps
Browse:
Tokyo Beyond Sushi - the guidebook
Explore the hidden side of Tokyo dining
Charcoal-grilled pork on skewers, udon noodles in curry-flavored soup, octopus dumplings, deep-fried beef cutlet -- there's a whole world of exciting food in Tokyo that food-loving visitors often miss out on.

This book will introduce you to more than twenty of Japan's favorite specialty foods that are less well known abroad, along with a guide to the best places in Tokyo to try them and expert tips on what to order. From Bento.com.
---