Fujiyama
Kita-Horie: Beer bar
Fujiyama

: Open late
: Open Sundays
---
Billing themselves as a "meat beer bar," Fujiyama delivers on both food and drink fronts, with an excellent selection of craft beers alongside a meat-focused food menu. The bar's six taps dispense US craft beers from breweries like Knee Deep, Lost Coast and Breakside, and there's a selection of around fifty bottled imports as well, including some splurge-worthy premium bottles. Draft beers are Y600 for a small 200ml glass and Y1200 for a 473ml pint.

The meat section of the menu features delicious artisanal sausages (pork, lamb, chicken and beef), numerous steak options (chateaubriand, T-bone, sirloin, tenderloin, ribeye and rump steaks), and whole roast chickens. There are also fritters of the day and meat-enhanced side dishes - we enjoyed an excellent "ethnic salad" with nice crisp vegetables, a good mix of herbs and tasty roast beef slices.

The atmosphere at the bar is warm and friendly, and the attractive stone bar counter is a comfortable spot to enjoy a beer or two. There's also a spacious enclosed terrace area up front and a few tables in back for groups of diners. Various set menus and open-bar plans are available if you want to hold a party here.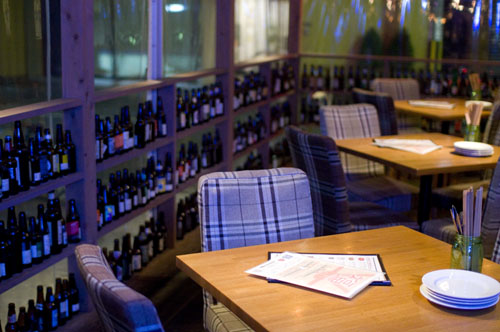 Kita-Horie
Osaka Nishi-ku, Shinmachi 1-28-18.
Directions on Google Maps