Au Temps Perdu
Heian Shrine: Tea shop
Au Temps Perdu
Open 11am-8pm. Closed Mon, 1st, 3rd Tues.
: Open Sundays

: No smoking
---
Au Temps Perdu has a grand location - Higashiyama to the east, Heian-jingu to the north and the Shirakawa River out front. But the food, although tasty, is in miniature.

What I recall as a robust pate sandwich set for Y1500 has been downsized to a boxed picnic lunch served in what looks like a takeout noodle carton from the States. In the lower half is a roast pork salad with cornichon and shallot dressing and two slices of pain de campagne. The top half is a bento a la francaise - two slices of duck liver pate, carrot salad, a slice of cheese, a slice of quiche and a slice of cake. Unfortunately the whole is less than the sum of its parts.

Au Temps Perdu does, however, have an extensive range of teas from La Melangee - a Mariage Freres rival at half the price. A pot of tea is included in the Y1500 set, and it is of generous proportion. As Au Temps Perdu is a salon de thé there is no coffee. But there is alcohol, some of which has a south-of-the-Pyrenees provenance; sherry, cava, wine by the glass, and beer by the Carlsberg bottle are all Y500. If you haven't reached a "hara-hachi-bunme" level of sufficiency by the end of your meal, the takeout pates and desserts will get you there.
by Justin Ellis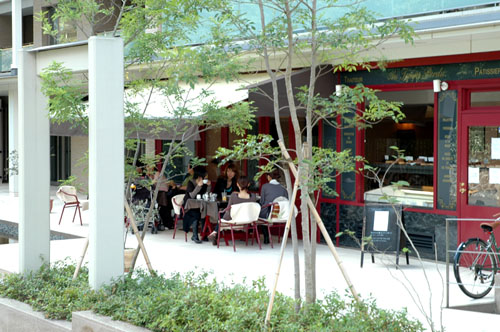 Heian Shrine
Okazaki Enshojicho 64-1.
See on Google Maps