Melange (Ebisu: Cat cafe)
Melange
Open noon-8pm (Fri, Sat -9pm) daily.

: Open Sundays
: No smoking
---
Whoever was responsible for the interior design for Melange has clearly discovered the secret to a successful cat cafe - providing lots and lots of different places to sit, perch, and nap. At first glance it looks like an ordinary living room, with bookcases, sofas and coffee tables, but there are also dozens of custom-made shelves and tiny stools upon which the 22 resident cats can comfortably sit and preside over cafe business.

The human staff are friendly and attentive - when we took a break to jot down some notes, a staff member brought over a sleepy cat in a basket to keep us company.

Prices are quite reasonable (Y600 for the first thirty minutes on weekdays), and you don't need to order a beverage, although you can get coffee or tea if you like. WiFi is free.

See more photos and details at Animal Cafes.com.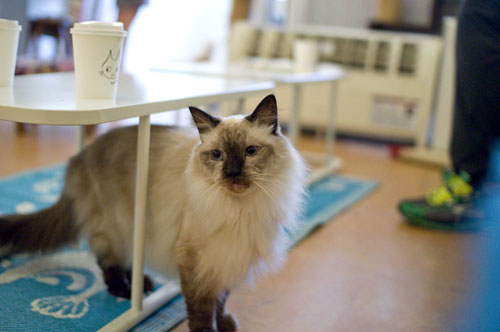 Ebisu
Shibuya-ku, Ebisu 1-7-13, 3F.
Location on Google Maps
Tokyo Beyond Sushi - the guidebook
Explore the hidden side of Tokyo dining
Charcoal-grilled pork on skewers, udon noodles in curry-flavored soup, octopus dumplings, deep-fried beef cutlet -- there's a whole world of exciting food in Tokyo that food-loving visitors often miss out on.

This book will introduce you to more than twenty of Japan's favorite specialty foods that are less well known abroad, along with a guide to the best places in Tokyo to try them and expert tips on what to order. From Bento.com.
---