Yabaton Kitte Granche
Marunouchi: Kushiage
Yabaton Kitte Granche (Marunouchi: Kushiage)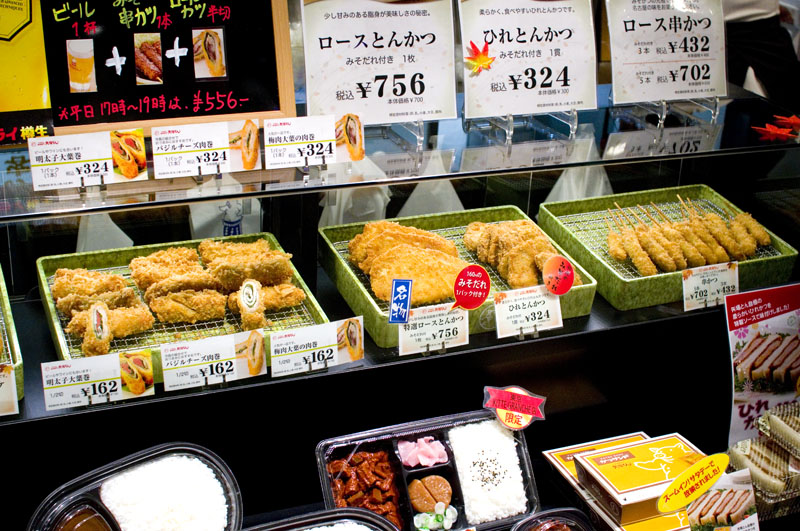 Yabaton Kitte Granche
Open 10am-9pm (Sun -8pm) daily.

: Open Sundays
---
Yabaton is Nagoya's most popular tonkatsu shop, and this small take-out stand offers not just tonkatsu but also a good selection of inexpensive kushiage and other deep-fried delights. Choose your own selection from kushi-katsu (basic deep-fried pork on skewers), pork with basil and cheese, crunchy pork-stuffed lotus root, pork cutlet with big chunks of leek, and spicy mentaiko (cod or pollock roe) with oba leaf.

Everything you order comes with Yabaton's signature miso-based sauce on the side. If you can't wait to bring it home, you can grab a table and stool in the rather bare-bones dining area and eat there - let them know so they can heat up your order. Individual skewers start from around Y162. (Located inside the Kitte Granche area in the basement of JP Tower.)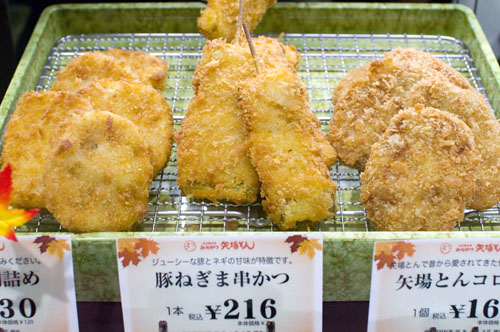 Marunouchi
Chiyoda-ku, Marunouchi 2-7-2, JP Tower Kitte B1F.
Location on Google Maps
Tokyo Beyond Sushi - the guidebook
Explore the hidden side of Tokyo dining
Charcoal-grilled pork on skewers, udon noodles in curry-flavored soup, octopus dumplings, deep-fried beef cutlet -- there's a whole world of exciting food in Tokyo that food-loving visitors often miss out on.

This book will introduce you to more than twenty of Japan's favorite specialty foods that are less well known abroad, along with a guide to the best places in Tokyo to try them and expert tips on what to order. From Bento.com.
---