Slappy Cakes
Shinjuku: American
Slappy Cakes (Shinjuku: American)
Slappy Cakes
Open 11am-10pm (LO) daily.

: Open Sundays
---
Gourmet pancakes are the big draw at this popular Oregon-based breakfast restaurant, where they come in interesting variations like Banana-Chocolate Chip with Raspberry Jam; and Roast Mushrooms, Scallions and Cheddar Cheese. In fact you're encouraged to devise your own custom combination of sweet or savory ingredients, ten optional toppings (lemon-curd, whipped-cream), and choice of batter (buttermilk, whole-grain or peanut-butter).

If you're not in a pancake mood, they also put together original concoctions like their Slappy Benedict (with sauteed spinach, prosciutto, pureed roast garlic, sun-dried tomatoes) and Vegetable Scramble (squash, leeks, kale, blue cheese), plus more meaty choices like the Slider Plate (spicy mini-burgers) and country-fried steak.

The Pork-belly Benedict comes in a decent-sized double-muffin configuration, along with a generous helping of roast potatoes. The flavorful pork-belly confit is complemented by tart cider-marinated cabbage strips and a creamy Hollandaise sauce livened up with bacon fat. The potatoes are properly roasted, resulting in crisp skins and soft centers.

Slappy Cakes' blintzes make a nice dessert after a savory main - they're filled with tangy, custard-like lemon-cream cheese, dusted with powdered sugar, and buried under a seasonal fruit topping (ours was a sweet blueberry jam). The drinks menu offers assorted brunch-friendly cocktails - Apple Toddy, Lavender Fizz, Marypolitan - as well as wines and amber ale from Oregon. Espresso is churned out by serious-looking Italian-made machinery.

The decor has an updated American-diner feel to it - spacious counter, Formica-top tables and a handful of large booths equipped with pancake griddles. The soundtrack is mainly 1940s vocal jazz (Tony Bennett, Frank Sinatra) with a bit of R&B thrown in.

Because of its department-store location the restaurant doesn't open until 11am, but breakfast is served all day from then until 10pm.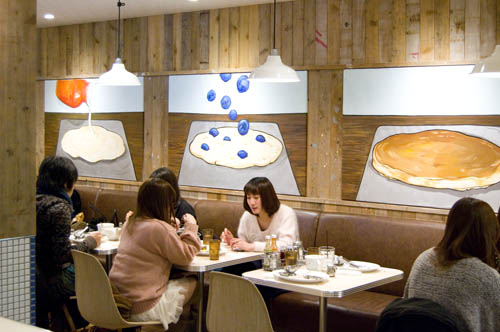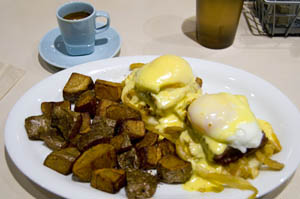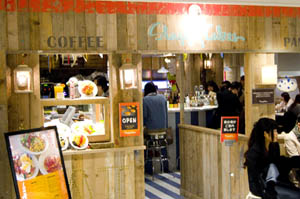 Shinjuku
Shinjuku-ku, Shinjuku 3-38-1, Lumine EST Shinjuku 7F.
Full-size map
Directions on Google Maps
Tokyo Beyond Sushi - the guidebook
Explore the hidden side of Tokyo dining
Charcoal-grilled pork on skewers, udon noodles in curry-flavored soup, octopus dumplings, deep-fried beef cutlet -- there's a whole world of exciting food in Tokyo that food-loving visitors often miss out on.

This book will introduce you to more than twenty of Japan's favorite specialty foods that are less well known abroad, along with a guide to the best places in Tokyo to try them and expert tips on what to order. From Bento.com.
---